Earning the support and trust of the community surrounding the Malaika school in the Democratic Republic of the Congo (DRC) was vital in its early days, and still is today, says the non-profit's founder and philanthropist, Noëlla Coursaris Musunka.
In the heart of Kalebuka – a village in Lubumbashi in the Democratic Republic of the Congo (DRC) – the Malaika school, which opened its doors in 2011, has just celebrated its first graduation.
Empowering girls through education has been a key focus of the grassroots non-profit organization and founder, model and philanthropist, Noëlla Coursaris Musunka tells FORBES AFRICA that having the support structure that she has, has been vital.
"It has been challenging to help the community recognize the value of girls' education when it has been a part of their culture to prioritize boys' education and expect girls to do domestic duties only.
"When we gather the community to play sports we teach them about equality, social cohesion and the value of education. This has helped them to recognize why girls should be educated and to be supportive of this," she says.
The United Nations Educational, Scientific and Cultural Organization (UNESCO) estimated that the out-of-school population in sub-Saharan Africa reached 98 million in 2021.
However, the organization noted that "important data gaps have been filled in countries that have large out of school numbers but where no administrative data of good quality has been available for over a decade". This included the DRC (5.9 million).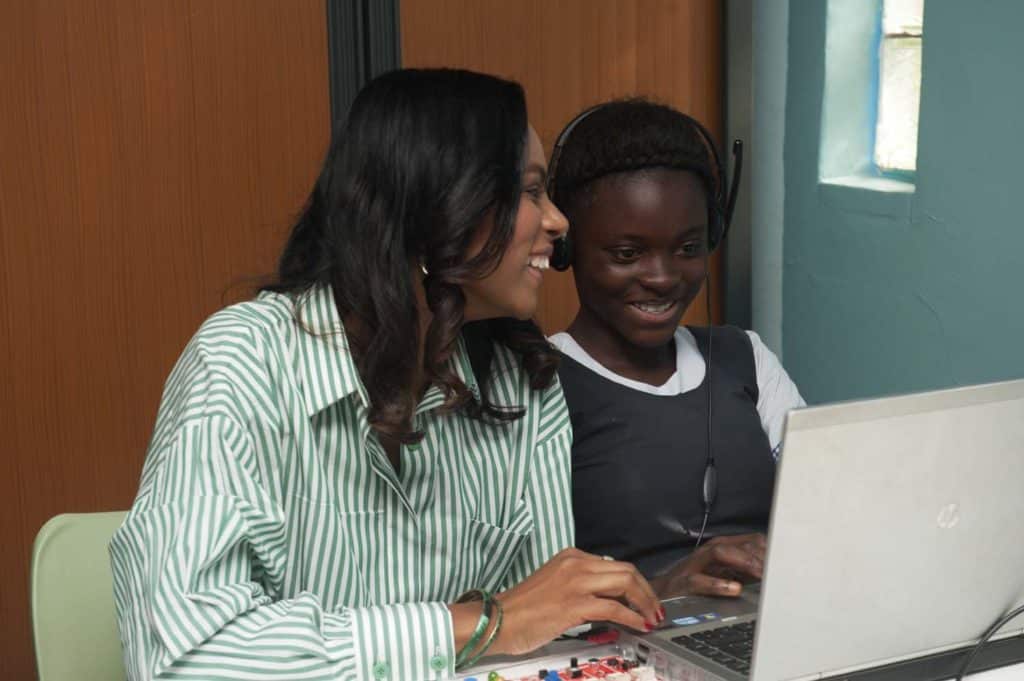 Since its establishment, Malaika has developed into a primary and secondary school, and a community center and organic farm has been added, along with the refurbishment of 30 wells in the area.
"It has been extremely important to earn the trust and support of the community. Our mission is to empower girls and their communities and if community members were not interested in taking part then our work would have had minimal impact," Musunka says.
"Our school, and our community center that provides vocational education and training to youth and adults, have been better because of the community's help and support. Having their buy-in with our community center where they come to play sport and learning together has been wonderful to see and when whole families come and benefit from education, the girls at our school benefit even more."
She also emphasizes that the support of the community was vital in getting the girls to school in the early days, and that many have been volunteers and helped to maintain the premises and land over the years. 
Students at the school receive Science, Technology, Engineering, and Mathematics (STEM) education and can learn concepts like VPL, Blockly and Scratch languages as well as other basic and advanced computer skills.
Along with this, the school teaches sustainable farming practices and ensures that the community has access to basic needs, like clean drinking water, all of which can give the community what it needs to uplift itself in the long-term.
"I would like to see more investment in education and community development. Malaika is a sustainable ecosystem that can be duplicated in any context and we have created a toolkit in order to support others to create a similar provision in their communities.
"I would also love to see more focus on sustainable development. There also needs to be a holistic emphasis, including focus on infrastructure and health needs. There needs to be provision that can empower a community with lasting change," says Musunka, who lives in the United Kingdom with her husband and children, and was named one of the BBC's 100 Most Influential & Inspirational Women in 2017.
As a mom, a feminist, and a believer in the right to access to education, health, and opportunity, her advice to young girls and women on the continent is to bet on yourself and aim high.
"Keep working hard and don't give up even if things don't seem to be going your way, just keep following your passion."