AFRICAN STARTUPS ARE RAISING UNPRECEDENTED AMOUNTS AT RECORD SPEED. FOR NOW, THE CONTINENT IS THE ONLY REGION IN THE WORLD SEEING A RISE IN VENTURE CAPITAL FLOWS. PERSPECTIVES FROM WEST AFRICA.
AS FUNDING FOR STARTUPS FALLS ACROSS the globe, Africa it seems is undergoing a renaissance in this regard.
"We are seeing a time where funding for African startups rose to a massive $3.14 billion in the first six months of this year alone," says Eric Idiahi, Co-Founder and Partner at Verod Capital, a leading West African private equity investor. "That is unprecedented and it really shows the interest in the continent!"
African entrepreneurs are raising money to solve pertinent socio-economic problems on the continent ranging from financial inclusion, providing access to healthcare for the underserved and vulnerable, and bridging the education gap.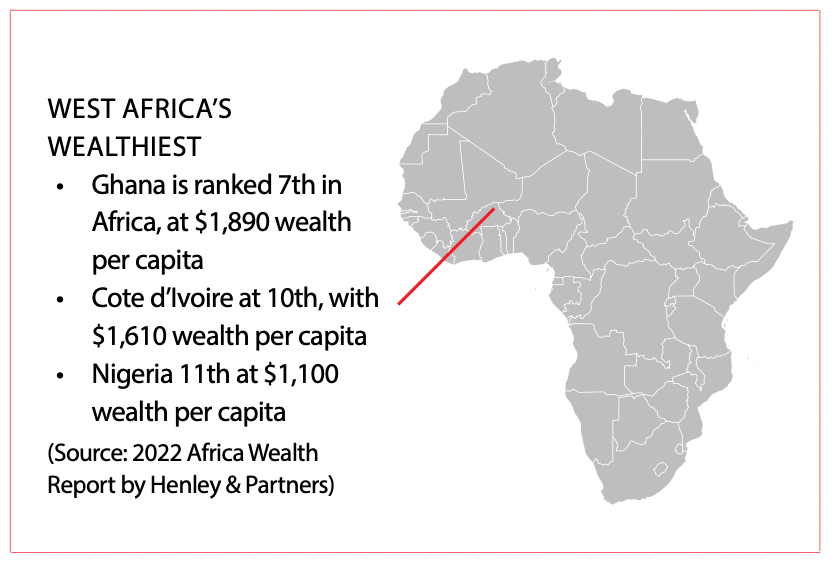 "Africa investment firms and angel networks have started putting money into African companies," says Dr Akintoye Akindele, yet another West African entrepreneur, who is the Founder of investment vehicle Platform Capital in Nigeria.
"It took African entrepreneurs almost 10 months to raise $1 billion in 2019. It took the same group eight months to raise $1 billion in 2020. It took them four months to raise $1 billion in 2021 and it has taken them less than six weeks to raise $1 billion in 2022. That means capital is coming in faster into deals and last year for the first time in our history, African investors invested more than European investors. This is a major milestone."
Akindele is himself focused on inviting investors "to see Africa the right way".
"This is because we know the narrative that exists about Africa and the negative questions we get asked."
The thesis of Platform Capital is that it deploys long-term capital to startups whose center of gravity is Africa.
"Africans need long-term, nurturing and patient capital. Four to five years is too short in Nigeria for a business to turn capital around and grow and deliver profit to capital providers. I believe from my experience that five to six years does not create enough alignment," says Akindele.
Based on their extensive research and experience investing in over 100 portfolio companies with a valuation north of $1.5 billion, Platform Capital invests in businesses that will become top in their sectors in 15 years. Akindele also believes his investments should be sector-agnostic.
"I believe in Africa, we should not be choosing what we cannot invest in… whether it's energy, telecom, agriculture, infrastructure or value-added services like gaming, I believe consumers need their basic needs met and then on the back of that we can evolve."
Akindele's primary focus is those sectors fundamental to the development of Africa.
"We invest in key areas that Africa needs to catch up on…so things like technology infrastructure, agriculture or food value chains. They form our anchor sectors and that represents about 60% of our portfolio. Then, when you have people who have electricity, food and water, they then go into the next sector like finance as well as education or healthcare…Then our final sector is robotics, artificial intelligence, such as one of our companies that do smell cyborgs," says Akindele.
The company he is referring to is Koniku, a synthetic biotech company that creates 'smell cyborgs' that can detect a range of compounds in the air in real-time, and which recently partnered with Airbus to launch biotech solutions for aviation.
The company has so far reportedly raised $49.2 million in four rounds and is part of a long line of African startups bucking the trend of venture capital (VC) investment worldwide.
According to Yaa Agyare-Dwomoh, a consultant with growth strategy consulting and research firm Frost & Sullivan, African VCs reached $1.8 billion, up 150% compared to $730 million in the same period in 2021 and was subsequently, also the only region in the world to record three-digit growth in the first quarter of 2022.
As the biggest catch-up market, Africa's advantage lies in its need for innovative solutions to leapfrog years of underdevelopment. For some pioneers like Oshiorenoya Agabi, the Nigerian-born scientist based in Silicon Valley and Founder and CEO of Koniku, that need for innovation has brought the continent to the age of biotech solutions.
The company, which was founded in 2017, is using technology to combine traditional computer cells with living biological neurons.
"We are creating a device capable of thinking in the biological sense like a human by creating neurons that are sensitive to particles and are able detect smell. By this method, the solution can be used for particle detection for aviation, military or agricultural application,"says Agabi.
Apart from biotech, the figures show that it is fintech that attracted the largest funding by sector by far, mostly spurred by the need to extend banking and financial services to millions of unbanked and underbanked Africans across the continent. "Fintech is now the most popular sector for investments in Africa. In 2021, fintech funding broke the $1 billion funding barrier and continued to receive the largest amount of funding on the continent, representing 54% of all venture funding deals. In 2022, the fintech sector was responsible for the biggest deals securing two-thirds of the total funding for Africa's technology firms," says Dwomoh.
And this trend looks set to continue.
"Despite the global trend of tech companies struggling to raise money, African VCs are still raising money at record speed," adds Akindele.
An unexpected side effect of the coronavirus pandemic has been the need for inclusive development in areas that fundamentally impacts society. This new trend known as impact investment has also consequently been on the rise in the African VC space.
Impact investing is based on the notion that when money is managed effectively, it has the added benefit of positively impacting the lives of people as well as creating a return on investment.
Africa is home to the youngest population in the world, with a median age of less than 20 years, and 70% of the population under the age of 30. According to the Global Impact Investing Network 2020 survey, almost half of global impact investment capital goes to the African continent.
Raised to appreciate poverty and wealth at the same time, Akindele is also a firm advocate of his investments positively making an impact on his portfolio companies. Platform Capital writes cheques anywhere from $10,000 to $10 million with most of the companies in the portfolio growing by 500% in terms of money raised, according to Akindele. As an African advocate, each investment the firm makes has to have an impact that
is transformational to the continent and its people and most importantly, makes a profit.
The new influx of money into Africa is just an attestation of everything entrepreneurs like him have consistently been working towards.