In 2008, while the world marveled over Facebook, the new fascinating platform that would change the way one approaches mass communication, Mutethia 'Tesh' Mbaabu's only thought about Facebook was: "Who built this platform and what is their background? And how can I do something similar?"
Mbaabu set out to learn everything he could about technology and building startups; he read up biographies and profiles of entrepreneurs and consumed news about top startups across the globe. A vision began to form: he wanted to build something as impactful as Facebook, but specific to Africa.
Which is what led to MarketForce, a B2B commerce platform that empowers over 200,000 neighborhood merchants across five African markets to source, order and pay for inventory, access financing and earn more by reselling financial services in their communities.
He seems to have all the support – judging by the number of people who nominated him for this list.
"What makes you so popular?"
"I think it's because it's because I represent a young black African entrepreneur who comes from an average family but who has been able to break into the tech ecosystem and raise funding, which is very hard. And then build a company that operates several African companies."
"Mutethia's story is testament to the importance of perseverance and resilience in the face of adversity," says 2023 30 Under 30 external judge Bright Jaja. "It's truly inspiring to see how he has turned his setbacks into opportunities for growth and innovation. In a world where we face so many
challenges, it's important to have role models who demonstrate that it's possible to make a positive difference and achieve success by pursuing one's passions."
---
2023 Forbes Under 30 Summit Africa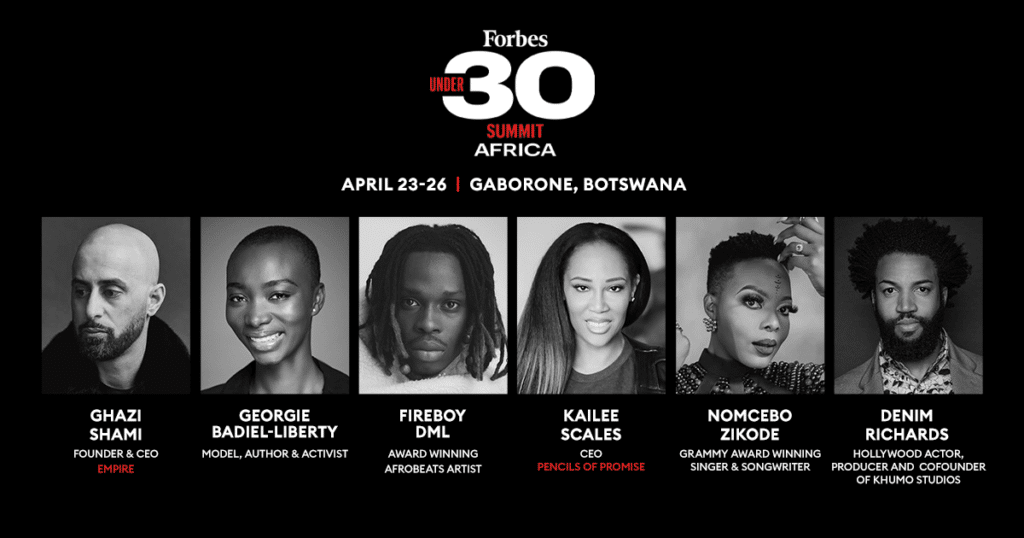 In April 2023, the Under 30 Summit will return to the world's greatest growth market, Africa. Following the first-ever Forbes Under 30 Summit Africa held in April 2022, the world's most elite young entrepreneurs and game-changers will again convene in one of the world's most beautiful countries, Botswana.
Across four days in the country's capital, Gaborone, we'll harness the power of entrepreneurial capitalism amid the continent whose growth will help define the 21st century. As with every Under 30 Summit, the social and cultural opportunities will be world-class. You'll hear from government, venture capital and business role models, providing inspiration for the newest—and next—generation of leaders. We will welcome local performers, chefs and entrepreneurs, allowing us to experience the sounds, cuisine and staples of local culture while engaging in unbeatable networking and pitching opportunities.