Antonio Depina went from shooting hoops to shooting up the corporate ladder. The soft-spoken entrepreneur from Cape Verde is making it rain in business.
"Someone has to do it, so I am always like 'ok I'll do it'," says Antonio Depina, who is not your average 26-year-old from the warm tropical West African island of Cape Verde.
The 2021 FORBES AFRICA 30 Under 30 list-maker known for his mobile app bringing talented professional basketball players closer to their dreams, especially in Africa, is now also launching a ride-hailing app named Zoomly.
Born in Wilmington, also known as the corporate capital of America, and the largest downtown in the state of Delaware, the concept of Africa was never foreign to him. Depina jokes that because his father is Cape Verdean and his mother Liberian, West Africa has always coursed through his veins.
"Both my parents have always said that I must come back to Africa. They always said that once I have established myself in America I have to go be a part of the change in Africa," Depina says to FORBES AFRICA. "But I didn't know I would end up wanting to be a part of creating solutions for not only my country (Cape Verde) but also the whole continent."
Depina believes that he is an American with the African dream to ensure that he can be part of solutions to problems on the continent.
"Africa just sort of pulled me in, pulled me here," he adds.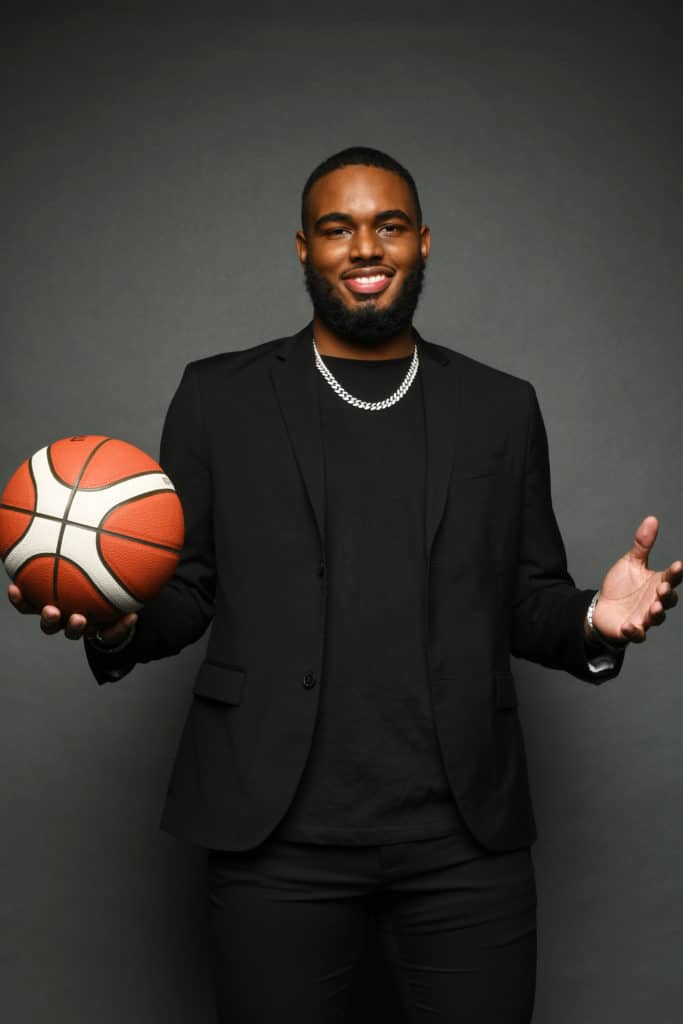 But it is because of his deeply-rooted love and respect for Africa that Depina is now adamant about building his legacy around the upliftment of Africa and her people.
In April 2020, in a small room in Delaware, Depina started his first company, Overseas Basketball Connection (OBC) with the vision of bringing talented professional basketball players closer to their dreams, especially in Africa. The mobile app connects with pro-basketball teams worldwide without the use of an agent.
"I was doing anything possible to be able to afford and create the OBC mobile app. I door-dashed, Amazon-Flexed, sold controllers out of the trunk of my car; whatever hustle I could do to make the money for marketing and developing the app. There were so many disappointments from developers that I eventually coded and created it myself. I had every reason to give up," Depina says.
It was also his vision to become a part of the FORBES AFRICA 30 Under 30 list.
In June 2021, Depina made the list and was part of the cover of the magazine. He says this has been the highlight of his year.
"My life has changed a lot especially in the sense of recognition. Being on the FORBES AFRICA's 30 Under 30 list kind of brought the attention of different investors, and you get respect from different
entrepreneurs across the continent. And not only the continent, but the world. Having that FORBES brand on your back and on your business kind of propels you and your business to another level."
The former basketball player and Netflix reality star decided to start Zoomly out of pure personal need: "I was going out one night and realized 'damn, why is it taking so long for me get a cab'."
Part of the reason why Depina wanted to build the e-hailing app was also to break stereotypes that other parts of the world may have about Africa not being part of the digital realm.
"I was blessed to be born in America, which is very developed similar to South Africa. I was impressed by South Africa when I visited the country. I was like, 'oh, my gosh, you guys have Pizza Hut and Uber and all these things'. That's not the side of Africa we learned about in school in America, to be honest… I don't blame people in America, I blame the education system because we didn't learn these things. We were not taught that Africa is a booming economy and that Africa's about to blow up. I think it's going to be the next greatest continent."
Depina believes that the future of business and growth lies in Africa and it starts with wanting to create solutions for the continent.
"My passion for tech came from seeing everything that was in America and then coming to Africa and seeing what was needed, and saying I can make a solution to that."
Zoomly will be launched on December 18 in Cape Verde only and with a plan to expand into different parts of Africa where transport is not heavily prioritized.
"Accessibility will be a problem but in Cape Verde, I think we are lucky because about 80% of households have smartphones and about 60% have Wi-Fi access," Depina explains.
Living with "no regrets", Depina wants this business to leap and score not just for profits but for the development of the African economy and for helping those in need.
"I am not someone who starts businesses solely for money, I only start companies that help people," Depina says. "For the first few months, I'm kind of sacrificing profit for growth. I am not looking to make millions in the first few months, I'm looking to see as many users as possible."