Africa's secret weapon in the global energy race – green hydrogen. The continent has the potential to flip the script, transitioning from a fossil fuel consumer to a green energy titan.
The global energy transition has a burgeoning champion – green hydrogen. Often overshadowed by solar and wind, this renewable resource is increasingly crucial for a sustainable future.
The current global hydrogen market is over $130 billion. The World Bank predicts an annual growth of over 9%. Although the surge is likely niche until 2030, the growing demand for renewable energy means that green hydrogen could accelerate rapidly thereafter. Regions with low-cost markets and abundant renewable resources, like Africa, become attractive production markets.
The principle is straightforward. Use renewable energy sources to split water into hydrogen and oxygen. The result? A fuel source that releases only water upon consumption. The applications are limitless, from powering cars to heating homes.
What is green hydrogen?
At its core, green hydrogen is simple. It's hydrogen, the universe's most abundant element, produced environmentally friendly. But how do we make it, and why does it matter?
Green hydrogen is generated via electrolysis, which splits water into hydrogen and oxygen using electricity. But for the hydrogen to be 'green', the electricity must come from renewable sources, like wind or solar power. The only byproduct is oxygen, a harmless gas we breathe every day.
In contrast, most hydrogen produced today is 'grey' or 'blue'. It's derived from fossil fuels, mainly natural gas, and the process releases significant amounts of carbon dioxide, a harmful greenhouse gas. Green hydrogen represents a shift away from this environmentally damaging status quo. However, green hydrogen faces challenges. Currently, it accounts for less than 1% of all hydrogen production. The main obstacle is the production cost, which is not yet competitive compared to grey or blue hydrogen. Most green hydrogen is used in energy-intensive industries like steel and chemical manufacturing.
The path to economic viability for green hydrogen lies in a combination of technological advancements, increased global development investment, and legislative commitments. These factors are expected to make green hydrogen a serious market contender in the coming decades.
Africa is fast becoming a frontrunner in the green hydrogen race.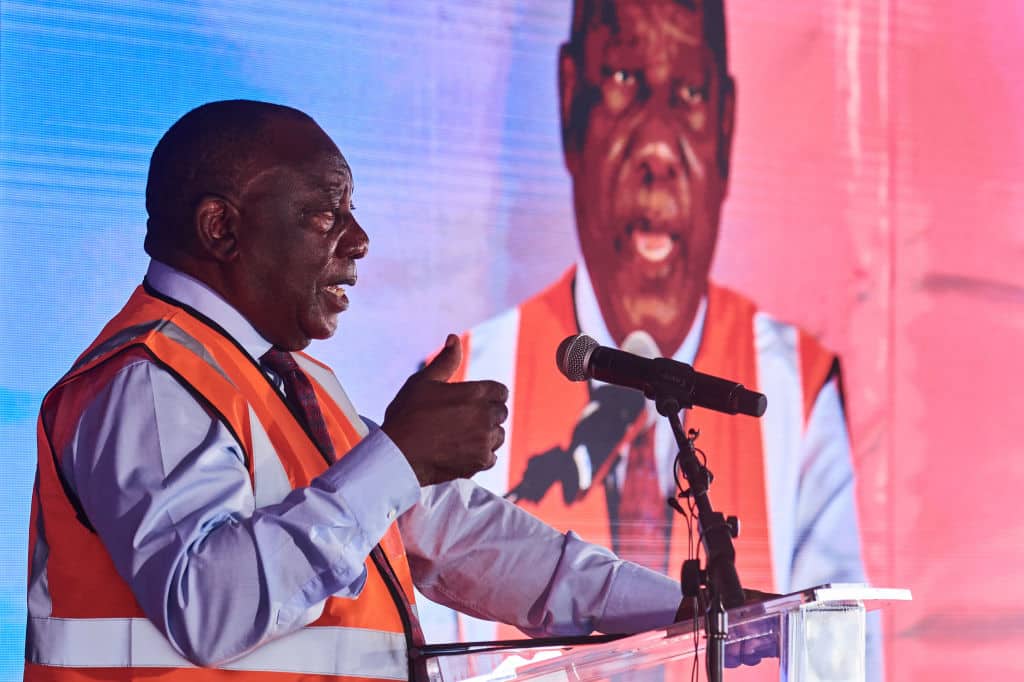 "FROM SOLAR TO BIOGAS, FROM WIND TO BATTERY STORAGE, THESE INVESTMENTS ARE LEADING ONE OF THE MOST IMPORTANT GROWTH INDUSTRIES IN OUR COUNTRY."

—South African President Cyril Ramaphosa
Blessed with an abundance of sunlight and wind, Africa is ideally positioned to exploit green hydrogen's potential. Groundbreaking projects are taking shape across the continent.
From the ambitious SA-H2 venture announced recently in South Africa to a green hydrogen initiative between Namibia and Botswana, these projects signal profound economic opportunities for job creation, growth, and sustainable development.
The Africa Green Hydrogen Alliance (AGHA), established in 2022, emphasizes Africa's competitive edge due to low production costs. Masopha Moshoeshoe, Green Economy Specialist at the Investment and Infrastructure Office in the Presidency of South Africa, stated in a press release issued by the United Nations Framework Convention on Climate Change on the launch of the alliance: "Green hydrogen has the potential to marry South Africa's significant mineral endowment with its significant renewable revolutionize its energy sector. The SA-H2 fund, which aims to establish a hydrogen ecosystem in South Africa, is at the forefront of this exciting transition.
The $1-billion fund was announced in June as part of a joint effort between the Netherlands, Denmark and South Africa.
"From solar to biogas, from wind to battery storage, these investments are leading one of the most important growth industries in our country," said South African President Cyril Ramaphosa at the announcement in Pretoria.
Blended finance is a key concept underpinning this project.
Andrew Johnstone, the CEO of Climate Fund Managers, explains to FORBES AFRICA that it refers to the strategic use of public
or philanthropic funds to mobilize private sector investment in sustainable development. In the context of SA-H2, this means bringing together private and public funding to make projects economically viable.
"They (the funds) act as a "spark" to ignite and mobilize belief, technology, and other forms of capital," says Johnstone.
"The SA-H2 project should be seen as part of a larger effort across the region to leverage blended finance for sustainable energy development."
The project is financed by a combination of different forms of capital, each with a different return requirement. This includes donor capital, commercial capital, and guarantees. By bringing these diverse sources of funding together, the project achieves a lower average cost of capital.
Johnstone explains, "Blended finance means in this context… to bring in capital in defined proportions in pursuit of a low average cost of capital." Notably, this blended finance model also allows
for differential risk sharing. If a project underperforms, certain investors may not receive a return, thus sharing the risk in a structured and agreed-upon manner.
Once a project is up and running, it has an obligation to repay its funders, whether those are lenders through equity or energy loans, or others through dividends. Johnstone describes this repayment as a "waterfall", with those who took the least risk and accepted a lower return being repaid first.
It's important to highlight the transparency and regulation of these funds. They operate similarly to companies, are regulated by appropriate bodies, and are overseen by advisory boards and investment committees populated by investors or independent representatives. This governance structure ensures a high level of oversight and accountability.
Another key aspect of the SA-H2 project is the co-existence of different funds. The development side of the project is planned with public contracts and equity funds in mind. This co-existence helps redefine what "bankable" means in the context of these projects, potentially accelerating the implementation process.
These blended finance projects aim to create scalable, replicable, and improvable markets, serving as a catalyst for broader change in the energy sector.
South Africa's SA-H2 initiative is not alone in its ambition.
Namibia is also making significant strides in the green hydrogen sector.
Noteworthy is a project in the Tsau Khaeb National Park, near Lüderitz, with the Namibian government proactively confirming a 24% equity stake in this $10 billion project, almost equivalent to the country's gross domestic product.
This initiative, led by Hyphen Hydrogen Energy, is gaining momentum with several key partners signing a Memorandum of Understanding to collaborate on the necessary infrastructure for Namibia's green hydrogen production ambitions.
"Namibia is perfectly positioned to produce low-cost green hydrogen and ammonia for domestic and international markets," said Frans Kalenga, Technical Advisor to the Minister of Mines and Energy of Namibia on Namibia's joining of the AGHA, in a press statement. "[It] provides a platform for us to collaborate with neighboring countries. AGHA's report reaffirms the potential, and provides important recommendations on how we can work together to unlock the extraordinary potential."
This potential is estimated to generate 15,000 jobs during the direct construction of the project, and a further 3,000 created permanently when the project is fully underway.
Namibia's Vice President Nangolo Mbumba acknowledged the global transition toward green hydrogen, as well as the country's abundant natural resources and landscape assisting in the suitability of its development as an industry.
"We are now approaching new fields of economy. Everybody is talking about green hydrogen. Three-four years ago, even the pronunciation was not known," he said, speaking during the Forbes Under 30 Summit Africa in Botswana in April. "People need energy, and plenty of it," he continued, acknowledging the international collaboration, local training and investment in education to develop the skills needed for green hydrogen initiatives.
"If we succeed, we will produce enough energy for the whole region of southern Africa," added Mbumba.
Policy and profitability
A confluence of factors is propelling the growth of green hydrogen in Africa. The continent's abundant natural resources, particularly sunlight and wind, provide an ideal setting for green hydrogen production. Escalating global demand for clean energy is creating opportunities for African nations to emerge as green hydrogen exporters. Moreover, policymakers are increasingly recognizing green hydrogen's potential in achieving climate goals and fostering sustainable development.
The advent of green hydrogen presents a substantial opportunity for job creation across the African continent.
With Africa positioned as a potential global exporter of green hydrogen, the sector could become a significant contributor to the continent's GDP. Moreover, the revenues generated from green hydrogen exports could be reinvested into local communities, improving infrastructure, education, and healthcare.
An analysis by McKinsey on behalf of AGHA identified a possible increase in GDP for member countries of between $66 billion and $126 billion by 2050, as well as up to 4.2 million new jobs as a result of green hydrogen investments.
The potential offers a pathway for nations to build a more resilient future, mitigating economic risks tied to unpredictable oil and gas prices. By developing a green hydrogen industry, nations could foster local technological innovation and enhance their manufacturing capabilities.
This prospect could shift Africa's role in the global energy landscape, transitioning from a net importer of fossil fuels to a significant exporter of clean energy.
However, the promise of green hydrogen is not solely economic. It also offers a sustainable solution that addresses the pressing issues of economic development and climate change simultaneously.
Green Hydrogen is a tool for survival
As the world stands on the brink of a pivotal moment in its fight against climate change, green hydrogen emerges as a powerful ally. As a clean, carbon-free source of energy, green hydrogen can replace fossil fuels in various sectors, leading to a dramatic reduction in greenhouse gas emissions.
In Africa, where climate change threatens both people and ecosystems, investing in green hydrogen will not only enable nations to contribute to global emission reductions but also helps them build resilience against climate change impacts at home.
Even though Africa is responsible for only a fraction of global carbon emissions, the continent is actively taking steps to reduce its carbon footprint.
Green hydrogen can play a significant role in these efforts, replacing carbon-intensive fuels across the economy and leading to substantial emission reductions.
Moreover, exporting green hydrogen to other continents could further reduce global carbon emissions, enhancing Africa's contribution to the global fight against climate change.
Renewable energy has been identified by many African countries as a key element of their climate change mitigation strategies. Incorporating green hydrogen into these strategies could hasten their progress towards achieving climate goals.
By offering a means to store and transport renewable energy, green hydrogen could solve one of the significant challenges of the energy transition: the intermittency of wind and solar power. This could facilitate a more extensive and efficient use of renewable energy, driving further emission reductions.
At the heart of the global energy transition, green hydrogen stands out as a beacon of hope. This renewable resource, making waves in the energy sector worldwide, has found a promising home in Africa. The continent, blessed with abundant wind and sunlight, is quickly gaining recognition as a potential global leader in green hydrogen production.
Pioneering projects across the continent signify Africa's commitment to embracing green hydrogen.
Yet, the narrative of green hydrogen extends beyond economics. It is a tale of resilience and innovation in the face of climate change. Looking ahead, it's clear that green hydrogen could reshape Africa's energy landscape, transforming the continent from a net importer of fossil fuels to a major exporter of clean energy. Such a transformation could not only stimulate economic growth but also enhance Africa's influence in global energy and climate policy discussions.
For Africa, the opportunity is now. It's an opportunity that calls for further research, investment, and policy support, for the sake of the continent and the world.