Kenyan fashion entrepreneur Ruth Abade uses upcycled materials to create vibrant clothes and accessories with sustainability sewn into them.
"It was something I've never seen. I was like, 'maybe this is what they mean by the end of the world?' The sky looked orange. And then it just went really, really dark."
In June, the New York skies were flooded with apocalyptic color, as Canadian wildfires moved south and the smoke transformed the global center of fashion into a burned sienna hellscape.
Kenyan fashion entrepreneur Ruth Abade is in the city for trade shows, describing by video call this ominous reminder of the consequences of unfettered consumption: the world's most charismatic metropolis reduced in minutes to incandescent shadows.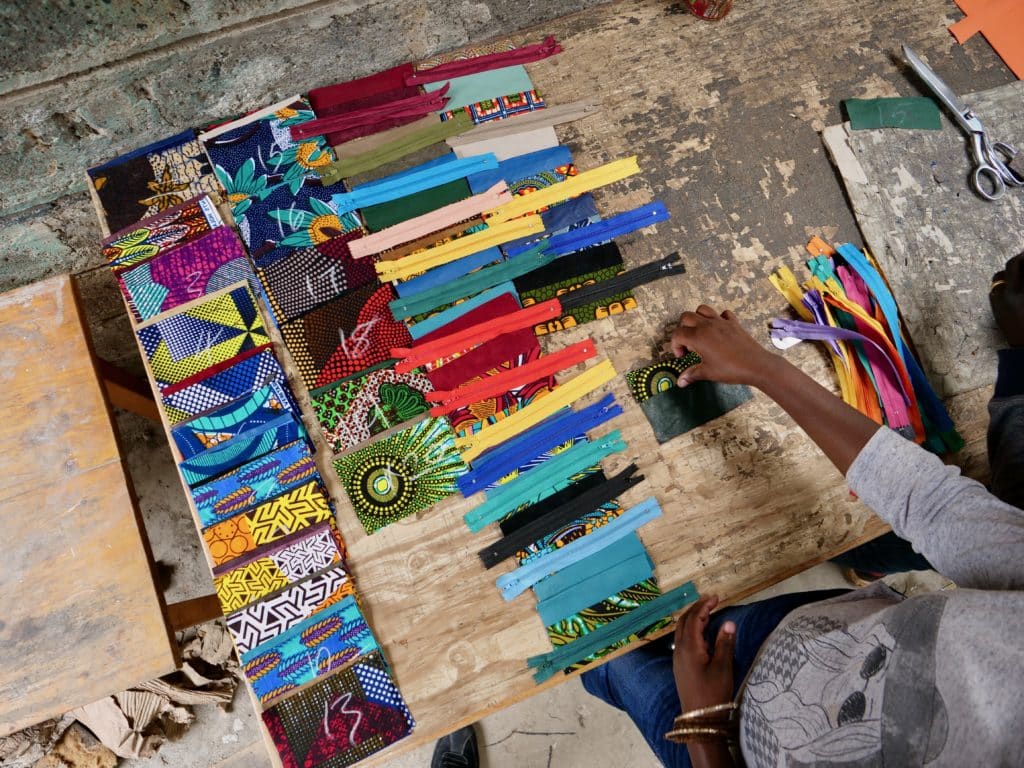 She is the owner of Blackfly Designs, an apparel, jewelry and textile company with practical sustainability embedded in its seams.
Abade and her dozen-strong team, based in Kibera's Toi Market in Nairobi, use upcycled materials to create one-of-a-kind clothes and accessories buzzing with quirky innovation.
Blackfly's bomber jackets pop with the vibrancy of re-purposed Indian saris; its shoulder bags are clever, jazzy patchworks of African fabric off-cuts, finished with expertly curated scraps of leather and salvaged metal fittings. The jewelry pieces are geometric alignments of the rough and the smooth, metallic juxtapositions of the polished and the well-traveled.
An industrial designer by training, Abade spent a year in Florence learning leather bag design before her skills coalesced into a business in 2012.
"So I took my industrial know-how into fashion, because I needed to survive! And then when your clientele grows, you harness all these scrap pieces as off-cuts, so I needed to develop another prototype. You have to embody the whole thing as one
item. So we decided that if you're going to use scrap pieces, you're going to use them all the way. You have to always be diverse when it comes to creation, because it never stops."
The brand grew so fast that the company began buying off-cuts from other tailors, generating a business model that initially presented challenges in how it would grow and become accessible to a wider market.
"When you're doing one-offs, it's difficult to sell to big retailers," Abade says. "It's also very difficult to sell to small stores, because they need to make a mark-up. And I wanted to create a product anybody can afford. So I had to make a decision. Either I build my own store – or people just come to the workshop."
The brand now sells directly to its Nairobi base and from its website; it eschews the influencer and social- media-driven demand for the latest must-have, a wasteful production cycle which floods the market with cheap copycats that often end their short lives in African landfill.
"It doesn't matter to me whether the business expands tremendously or not," she says. "You have to stay true to the reason why you do it. We started this because of the overflow we had, but it's also the joy of working with the suppliers who have always had our back, where the person is willing to sacrifice anything for you – because you've been with them for 10 years, and never gone away."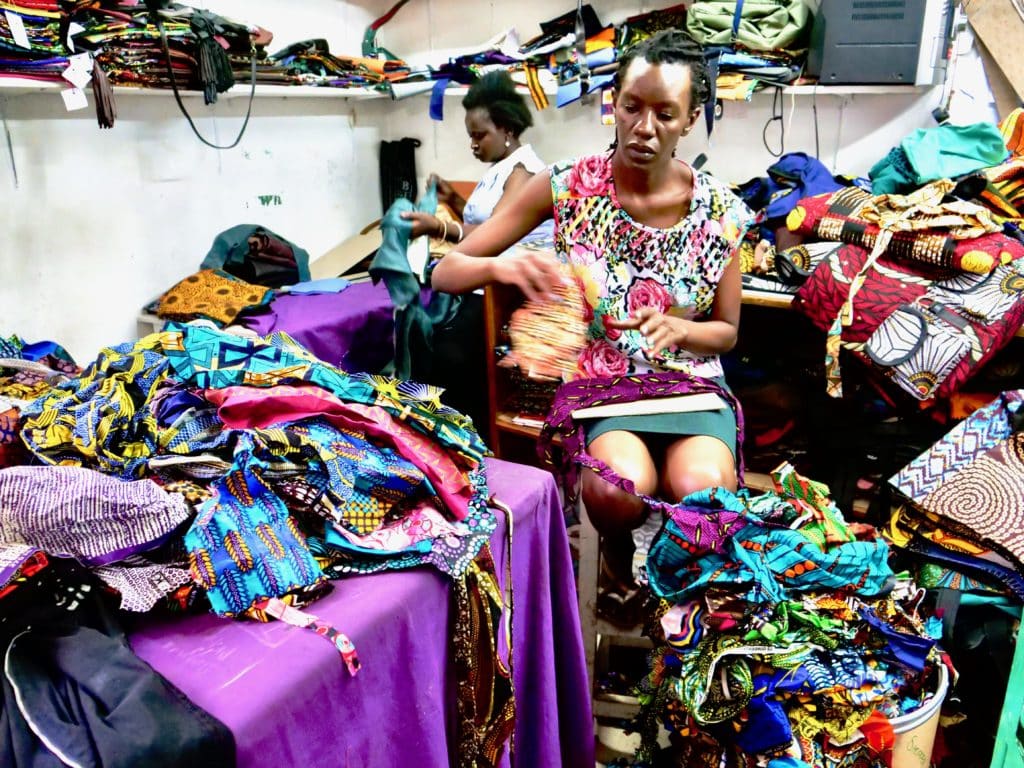 Abade has also been careful to shun the economic thirst-trap of the easy business loan, and has instead instituted a solidarity fund within the company to allow employees to contribute to a monthly kitty accessible when any of the team need to borrow without risk. Staff are able to access these contributions when they leave, a structure that encourages an understanding of fiscal responsibility based on mutuality and trust.
"You have to sit down with your people and be candid," she says. "I run my business like a family, so they see the struggles.
When you have a conversation like that with people, they understand where you're coming from."
Mindful of the steady international growth in upcycling, and the resultant price increase in scrap material and off-cuts, Abade is now gradually shifting her focus towards printed textile production, using quality cotton fabric made by women and sourced from Tanzania. She believes her prints will open up a new niche demand for a local twist on an African fashion stalwart, with Blackfly aiming to become the leading Kenyan producer of the traditional Indonesian batik prints embraced with such joyful ubiquity in the west of the continent.
"I have a big responsibility to produce a technique that when seen anywhere in the world, people will say, 'This is Kenyan batik, without a doubt'. Because you can't train people if you don't have a specific technique," she explains.
"I'm experimenting in order to find something uniquely Kenyan – painting more than stamping; using pastel and muted colors, but in very strong combinations. I think the market is hungry for something new. And big brands are starting to really think about organic cottons, so everybody's giving themselves a timeline to work with. We have to be ready for that timeline."
As the North American skies clear, Abade looks ahead with hope, the creative fire still burning in her belly. "I have to remember that regardless, I'm an artist, before a businessperson. And working with artists, I think, is a nightmare," she laughs. "But as long as it feels good – that's what we're going to do."