If you thought this weekend's cumulative box office (around $43 million) was ugly, just wait until you see next weekend's domestic cume. Sony moved Morbius from January 28 to April 1, and nothing whatsoever as slid in to fill the gap, which will lead to Spider-Man: No Way Home, Scream and Sing 2 (which is holding firm even as it tops the various VOD charts) again making up around 75% of what gets spent in the last weekend of January. Why is the domestic box office in such grim shape now? Well, the answer is slightly more complicated than "Omicron" or "streaming."
1. The Oscar season is a bust. 
While January isn't usually a robust month for regularly scheduled tentpoles, we can usually count on one or two December releases successfully expanding into wide release to mainstream commercial success. Think, offhand, A Beautiful Mind ($171 million in 2001/2002), Chicago ($171 million in 2002/2003), Slumdog Millionaire in 2009, The Silver Linings Playbook ($132 million in 2012/2013), The Revenant ($184 million in 2015/2016), Hidden Figures ($169 million in 2016/2017) and 1917 ($159 million in 2019/2020). These films earned strong reviews and solid buzz in their November/December platform launches and then broke out accordingly with eventual $130-$190 million (or, in the case of American Sniper, $350 million-plus) domestic success once they expanded to "theaters everywhere" early in the new year. Alas, this year has no La La Land or Gran Torino-sized $150 million-plus breakout, nor even the likes of The Fighter or Black Swan both coasting to over/under $100 million in 2010/2011.  
House of Gucci, with just $51 million, is the biggest-grossing awards season release with West Side Story placing second by default with $35 million. Save for maybe Dune ($107 million), none of this year's awards season flicks have broken out, with the so-called "mainstream crowd-pleasing frontrunner" Belfast stuck at $7 million and the theoretically commercial likes of King Richard and The Last Duel all earning well below the $23 million-grossing American Underdog. The Christmas tentpoles and the awards season darlings once thrived concurrently. You got the Lord of the Rings trilogy and the respective Best Picture winners thriving. Tron: Legacy and True Grit could both earn around $170 million over Christmas 2010. The Force Awakens ($937 million) and The Revenant ($184 million) could both be relative successes. But with audiences ignoring the Oscar flicks (or waiting until streaming), the domestic box office is almost entirely predicated on the holdover tentpole business.  
2. Most of the December releases flopped. 
Speaking of which, almost everything released in December tanked over the holidays. In a skewed example of the movie industry as it now exists, Spider-Man: No Way Home is the fourth-biggest domestic ($721 million-and-counting) and sixth-biggest worldwide ($1.69 billion-and-counting) grosser of all time, while almost everything else (The Matrix Resurrections, The King's Man, American Underdog, A Journal for Jordan, West Side Story, Nightmare Alley, etc.) sits below $40 million domestic and in most cases closer to $10 million than $25 million. Yes, Illumination's Sing 2 is a genuine, no-Covid curve theatrical hit, with a likely $140 million domestic and possible $300 million global cume on an $85 million budget. However, compare that to 2017 when The Last Jedi ($620 million), Jumanji: Welcome to the Jungle ($404 million) and The Greatest Showman ($174 million) helped end 2017 and start 2018 with a bang. Even the $84 million gross of Ferdinand now feels aspirational.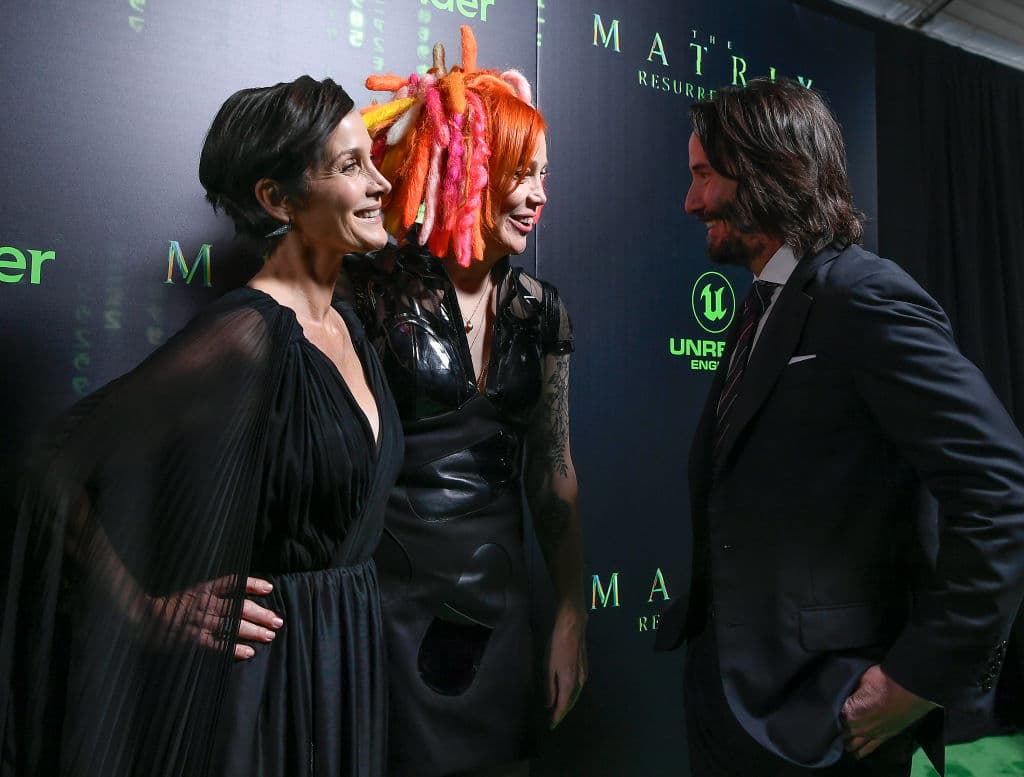 3. Studios don't want to cannibalize themselves. 
Sony didn't delay Jared Leto's Morbius from this weekend to April 1 due to Covid concerns. If that was the case, they could have moved it right back after Scream opened with $33.8 million over MLK weekend. First, April 1 is just a better date for a big movie and second No Way Home is legging out so well (it had a smaller sixth weekend drop than any of the recent pre-Christmas December mega-movies save for Aquaman, Titanic and Avatar) that it's almost silly to interrupt its stride. As Wag the Dog taught us, you don't change horses in midstream. Sony can coast on Spider-Man 3 version 2.0 grosses regardless of whether it ends up in the Best Picture race next month. Whether or not Sony is throwing in new multiverse cameos, Morbius can wait until Spider-Man has run its race.  
Ditto Tom Holland's Uncharted still set for February 18. Meanwhile, even if Universal wanted to fill in a hole in the schedule, Jennifer Lopez's Marry Me (also debuting concurrently on Peacock) is specifically a Valentine's Day weekend attraction, while moving DreamWorks' The Bad Guys from April 15 to, well, now, would only stunt Sing 2's leggy run. Likewise, while it might be tempting for Paramount to move Jackass Forever to this weekend (as opposed to February 4 against Lionsgate's IMAX-enhanced Moonfall), they've already got Scream doing halfway decent business while banking on Johnny Knoxville's appearance on this Saturday's WWE Royal Rumble to goose interest in the comedy sequel. As such, the schedule as it exists remains as it was, with nothing arriving to fill the slot where Morbius was supposed to rule. I mean, I might have tossed Liam Neeson's Blacklight onto this weekend, but it's not my money. 
4. The Super Bowl! 
The Super Bowl will air globally on February 13, 2022. While history has shown that the films slated for that weekend (Death on the Nile and Marry Me) can do fine, it is a huge marketing opportunity for a slew of upcoming movies. No, I don't know what films will get high-profile commercials during the big game, although Warner Bros. hasn't plugged a big movie since Batman Begins in 2005. Regardless, even if they wanted to throw an upcoming movie into the January 21 or January 28 weekend, it would mean they'd be missing a chance to plug that film during the most-watched television event of the year. Sure, we may (speculation alert) see first looks at some big summer tentpoles, we will also likely get reminders for Uncharted, Operation Fortune, The Lost City, Morbius and Sonic the Hedgehog 2, all of which open prior to the summer season. 
5. The Streaming Factor
Yes, the industry is dealing with Wall Street's current preference for streaming, as well as the after-effects of studios selling off some potentially commercial flicks to streaming platforms as a way to get quick cash to weather the storm. I'd imagine Sony's Hotel Transformania (a lack of Adam Sandler notwithstanding) would have given the box office a mild jolt (the previous three installments have grossed $1.3 billion worldwide) had it opened theatrically instead of debuting this past month on Amazon Prime. Encanto might have been a bit leggier (and opened bigger) had it not been essentially treated as a Disney+ flick with a courtesy 31-day theatrical engagement (as opposed to a theatrical event which would eventually debut on Disney+). I can't say to what extent Warner's King Richard and Matrix 4 being available on HBO Max, along with the more mainstream Oscar flicks being at 20th Century as Disney was prioritizing Disney+, but it probably didn't help.
Epilogue
The "good" news is we've been here before. In early 2018, Black Panther earned $700 million domestic and $1.346 billion worldwide while steamrolling a slew of tentpole flicks throughout February and March. This wasn't Titanic sinking a bunch of small movies. The likes of Tomb Raider, Pacific Rim: Uprising and A Wrinkle in Time might have been franchise-friendly contenders absent the superior all-quadrant blockbuster. Studios held back in 2019 on stuffing the pre-Easter season with copious tentpoles. WB moved Godzilla: King of the Monsters from March to May and everyone kept their distance from Captain Marvel (March 8). Alas, January's Glass slightly underperformed and February's The LEGO Movie 2 tanked, leaving Hollywood waiting for Marvel. Cut to 2022, and everyone's counting on The Batman (March 4). I can't promise that The Batman will kick off a "business as usual" pre-summer season which will lead to a business-as-usual summer, but fingers crossed.