In what seems to be an endless game of hot potato, the Harry Potter films have now, again, jumped ship from Peacock to HBO Max (ShowMax). The definitive tentpole fantasy franchise of the 2000s, which began with a record $93 million opening weekend and $974 million global gross (second only to Titanic at the time) in November 2001 and ended with a record $169 million opening weekend and $1.34 billion global cume (behind only Titanic and Avatar at the time) in July of 2011 essentially has two homes.
The films obviously belong to Warner Bros., but the theme park attractions (where much of the fandom is nurtured) belongs to Universal Studios. Anyway, to mark the occasion, and since I've never sat and done this before, I have used science, math and dark magic to create the official, 104% accurate ranking of all eight Harry Potter movies. I like all of these films to various degrees, but, as always, this list will not be your list, because what fun would that be?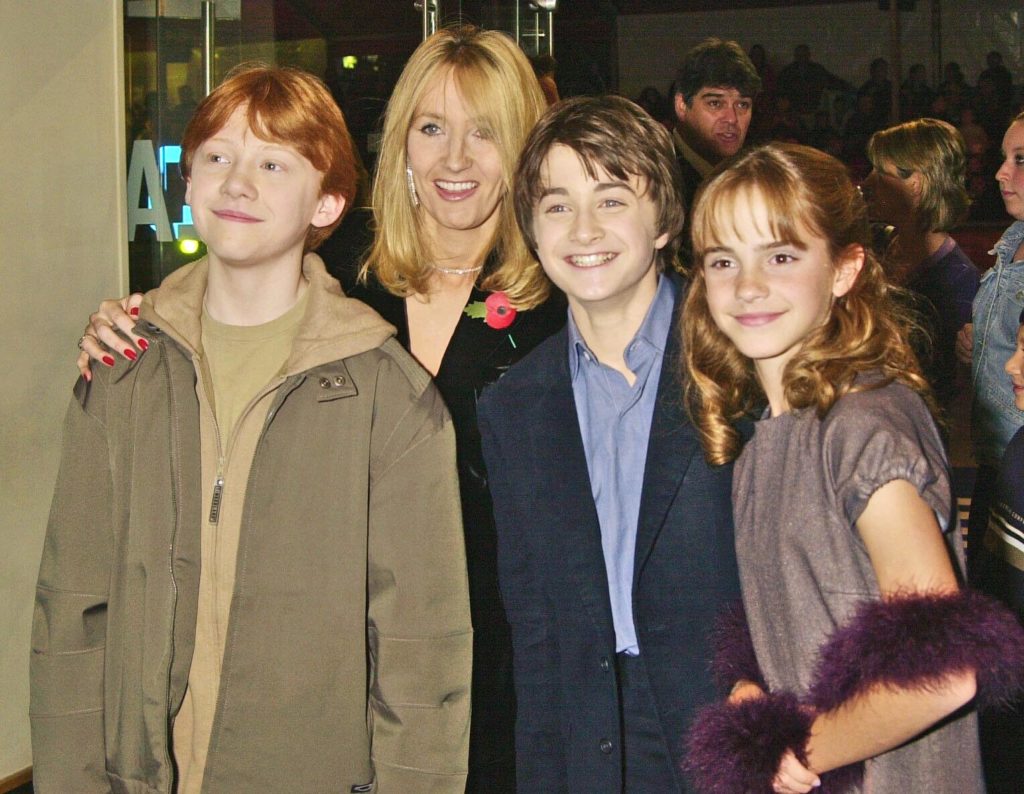 Harry Potter and the Chamber of Secrets (2002)
Budget:                               $100 million
Opening weekend:        $88.36 million
Domestic box office:     $262.23 million
Worldwide box office:  $878.75 million
By default, this Chris Columbus-directed sequel has the challenge of being the only chapter that's essentially an "episode of the week." It's not the introductory chapter and it's arguably the only one that doesn't really establish key relationships or plot points within the broader eight-film saga. It also has to try and tell a supernatural murder mystery where no one actually dies, but it still gets gets for some genuinely terrifying creature effects (the deluge of spiders and the final monster are absolutely trying to scare your kids senseless). However, even in this "inessential" chapter, Richard Harris' Dumbledore offers up the key thesis of the saga, namely that a person's value is not about their destiny or lineage but rather about the choices they make in good times and bad.
Harry Potter and the Half-Blood Prince (2009)
Budget:                               $250. million
Opening weekend:        $77.84 million ($158 million Wed-Sun)
Domestic box office:     $302.09 million
Worldwide box office:  $934.76 million
I'm a little "biased" as they say, because this sixth film is based on one of my favorite books in the series, and yet seems to omit the very things that make the book pop. We get almost no "origins of Voldemort" material and very little in terms of Snape's backstory, instead saving that for one long montage in the final picture. Moreover, and this is not necessarily a criticism (because it works for this adaptation, but the film painfully telegraphs what in the book was a jaw-dropping plot twist. Even with an overindulgence in hormonal hijinks, this one still works as a visual differentiation while Tom Felton's Malfoy shines as a young man tortured by the implications of actually doing evil as opposed to merely "being" evil.
Harry Potter and the Sorcerer's Stone (2001)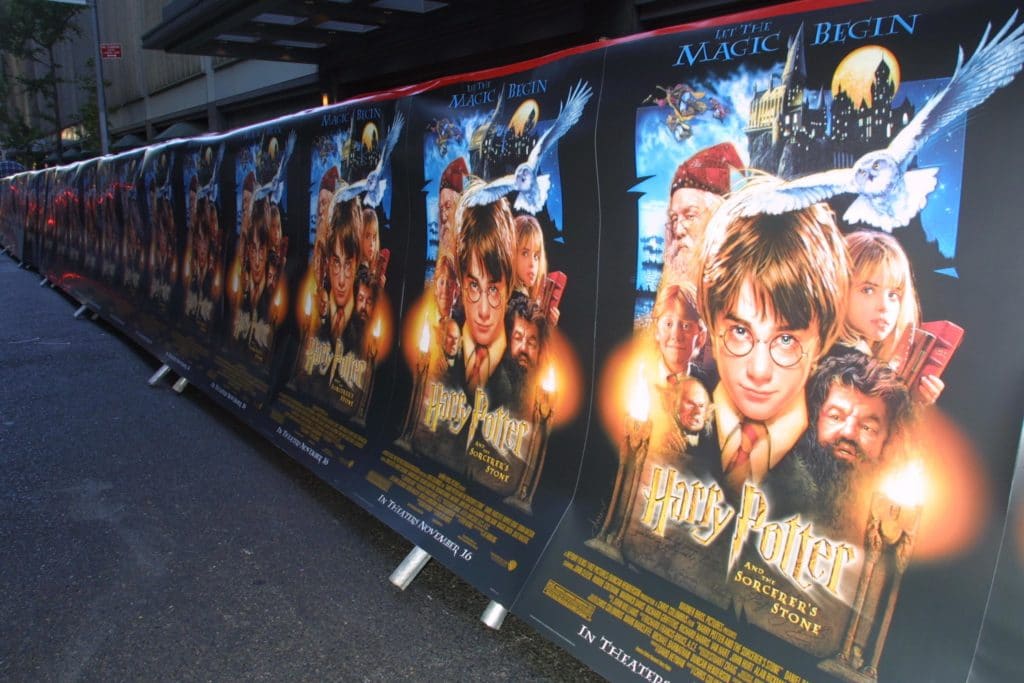 Budget:                               $125 million
Opening weekend:        $90.29 million
Domestic box office:     $317.87 million
Worldwide box office:  $974.71 million
This table-setting chapter is a remarkable example of efficient character introduction (three of four main adults, Hagrid, Dumbledore and McGonagall, appear fully-formed in the prologue), and the sheer inexperience of our young actors puts the "burden" on the elder pros. Even so, Daniel Radcliffe, Emma Watson and Ruper Grint nail the core characters with able support from the likes of Richard Harris, Robbie Coltrane, Maggie Smith and Alan Rickman. The mystery is (obviously) kids stuff, but the film works as a refreshingly stand-alone story which didn't feel the need to offer an entire saga's worth of loose ends. That's another example of Hollywood learning the wrong lessons from a blockbuster smash. At the very least, Chris Columbus deserved a special Oscar for casting this entire saga pitch perfect from the start.
Harry Potter and the Prisoner of Azkaban (2004)
Budget:                               $130 million
Opening weekend:        $93.69 million
Domestic box office:     $249.76 million
Worldwide box office:  $795.63 million
This Alfonso Cuarón-directed chapter is often considered a favorite for folks who otherwise don't care for the franchise. The film refreshingly upends the comparatively conventional visual template, including putting Harry and his friends in civilian close and giving the adult cast a stake in the core story, but it's also among the few that more-or-less requires you to have read the book to get the nitty-gritty details. Also, Gary Oldman's Sirius Black has too little screen time, although Harry's friendship with Professor Lupin (David Thewlis) is an emotional highlight and a delight for those of us who "discovered" Thewlis in Naked Lunch, The Island of Dr. Moreau and/or Dragonheart. A solid stand-alone chapter, and a "calm before the storm" entry which barely mentions "He Who Must Not Be Named."
Harry Potter and the Goblet of Fire (2005)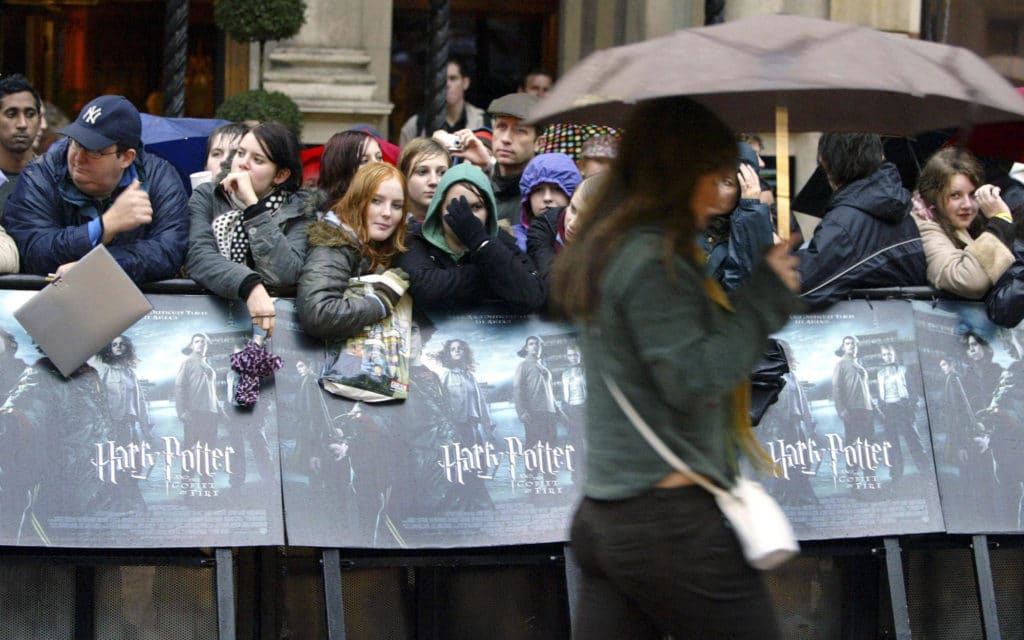 Budget:                               $150 million
Opening weekend:        $102.68 million
Domestic box office:     $290.20 million
Worldwide box office:  $896.68 million
The best of J.K. Rowling's books results in a merely "very good" feature film adaptation. While I get Mike Newell's decision to omit most of the non-Harry Potter material from the infamously long source material, the film ends up having a certain episodic feel. Moreover, in a chapter that should be filled with melodrama, the "stiff upper lip" British mentality makes it feel a bit more functional than it should while the visiting schools hilariously reinforce certain gender stereotypes (Clémence Poésy's Fleur Delacour is miserable in each TriWizard competition). Nonetheless, the action scenes are pretty great, the climax works despite itself and Ralph Fiennes (cast to type) makes a fine entrance as Voldemort in the flesh. Robert Pattinson's entrance as the doomed Cedric Diggory made my jam-packed IMAX showing sigh with thirst/lust. They weren't wrong.
Harry Potter and the Deathly Hallows part II (2011)
Budget:                               $125 million
Opening weekend:        $169.19 million
Domestic box office:     $381.19 million
Worldwide box office:  $1.342 billion
I'm not sure why director David Yates (who helmed the last four of these) decided that this series finale should the one to run barely two hours, especially when they spend much of the first act in a side quest to fetch a Horcrux from Gringotts bank. Nonetheless, if the last 2/3 feel a little rushed, with much of the "battle of Hogwarts" feeling a little truncated, at least it doesn't wear out its welcome. This series finale nails the landing, giving big character moments (including Julie Walters' Molly Weasley righteously killing of Helena Bonham Carter's Bellatrix Lestrange) to everyone of consequence and prioritizing a satisfying finale over jaw-dropping twists. Rickman shines, the forest walk hits like a ton of bricks, and the Harry/Voldemort showdown cleverly adds a physicality to what was mostly a point-and-shoot duel.
Oh, and the epilogue is as effective now as it was in print form. These kids didn't want to be kings and masters, they just (like Sam and Frodo) wanted to live another day. Especially ten years later, after so many other pop culture juggernauts came to a whimpering end, it's beyond impressive that Harry Potter and the Deathly Hallows part II just ended its story in a logical and satisfying fashion without trying to outsmart the fans or subvert expectations. Hell, in this pop culture, a smooth landing is the biggest surprise of all. Had it all ended here, without the thus-far botched prequel franchise (and, yeah, without the author earning the ire of her fandom), I still think Harry Potter would still stand alongside (or above) Star Wars as a definitive pop culture myth.
Harry Potter and the Order of the Phoenix (2007)
Budget:                               $150 million
Opening weekend:        $77.1 million ($139.72 million Wed-Sun)
Domestic box office:     $292.14 million
Worldwide box office:  $942.64 million
It is a little ironic that the worst, most padded book in the series makes for one of the very best movies. David Yates made his "Wizarding World" directorial debut with this fifth film. Michael Goldenberg took over (just this once) for regular screenwriter Steven Kloves and cut the source material to the bone, creating a coming-of-age adventure whereby our young heroes were left to fend for themselves as the outside world (and the adult authority figures in their midst) either turned on them or were unable to help. With nobody believing that Voldemort was actually back, it's up to Harry to actually earn his stripes and teach his classmates to defend themselves, as this thrilling chapter culminates with a wizard battle royal that highlights all the heroes and villains kicking each other's asses in IMAX-friendly fashion.
Harry Potter and the Deathly Hallows part I (2010)
Budget:                             $125 million
Opening weekend:        $125.02 million
Domestic box office:     $296.13 million
Worldwide box office:  $960.43 million
This "part one" of the two-part adaptation of the final novel sends Harry, Hermione and Ron on the run from a now dominant Death Eater army. The heroic trio has to fend for itself as their allies perish at the hands of Voldemort's empowered genocidal army. Concurrently, now the actors have to step up as they all deliver franchise-best performances. While the film is generally a character-driven tone poem, drenched in fear and despair, it does have several exciting and exceedingly tense action scenes. As a stand-alone picture, Harry Potter and the Deathly Hallows part I is a pitiless plunge into hell, a sad and bitter drama where beloved childhood memories vanish in a puff of figurative (or in Hermione's case, literal) waves of a wand. Seven films in, Harry Potter gets its Empire Strikes Back, and it's awesome.
By Scott Mendelson, Forbes Staff