THE MUSIC EMANATING OUT OF AFRICA TODAY IS RECORD-BREAKING IN EVERY SENSE. WITH THE NEW SOUNDS, THERE HAVE BEEN NEW PATHWAYS TO SUCCESS FOR AFRICAN ARTISTS. THESE CREATORS HAVE TAKEN EVERYTHING FROM AMAPIANO TO AFROBEATS AND TOLD THE AFRICAN GROWTH STORY, IN DECIBELS THAT HAVE MADE THE WORLD SIT UP. EVEN AS MORE GRAMMY AWARDS FIND A HOME ON THE CONTINENT, THESE TOP 20 MUSICAL ARTISTS ARE ON TRACK TO DELIVER MORE. TOGETHER THEY SAY THAT THE FUTURE OF THE AFRICAN MUSIC INDUSTRY IS BIG, BRIGHT AND BOUNTIFUL.
"Alexa, play the most popular song in Africa at the moment."
"I'm sorry I don't understand your request at the moment."
"Alexa, why not?"
'Because all music coming out of Africa seems to be popular at the moment!"
NOW, WE WOULDN'T BE SURPRISED IF ALEXA actually said that, would we? The truth is that the African continent seems to be where all the action is when it comes to art and artistry at the moment, and everyone from Beyoncé to Usher to David Guetta want in.
When you think of African music, the thought of affiliating the continent's industry with just American rock bank Toto's 1982 classic Africa has long gone.
We are now seeing African artists take the global stage, literally, storming on to it with new music, introducing new sounds, genres, and energy, and educating the world on the true meaning of what
being African is, without baggage, without the long-held views and regressive stereotypes.
Pricewaterhouse Coopers' (PwC) annual report, Entertainment & Media Outlook 2019-2023, focuses on the media industry in some of Africa's biggest economies: South Africa, Nigeria, Kenya, Ghana and
Tanzania. Alinah Motaung, PwC South Africa Entertainment, and Media Leader explains to FORBES AFRICA that it shows that there is a hunger for content, and continued advances in technology, new business models, and ways of creating value will drive the industry's growth for the next five years and beyond, especially in Africa.
However, there have been major shifts in the industry.
"The common driving force behind these power shifts was the change in customer behavior propelled by newly-acquired habits and the impact of the pandemic," Motaung says. "However asymmetric the pandemic's impacts on the entertainment and media industry, the forecast for revenues at an industry level remained robust… For entertainment and media companies around the world, the past 18 months have been a period of remarkable uncertainty and challenge.
"The well-known forces that were changing our world —digitization, globalization, disruption, shifting consumer habits and demographics — were amplified by a powerful new one, the first global pandemic in a century."
The report notes that digital music streaming (Spotify, Apple Music, and YouTube) in all regions seems to be on an upward curve. In South Africa, revenues are set to increase at a 20.1% compound annual growth rate (CAGR) to a total of R815 million ($49.9 million) in 2023. Revenue in Nigeria is also set to "rise" by $17.5 million and in Kenya by $5.2 million.
"No one African country is like the other and what we have seen, for instance, is that Nigeria is fiercely
proud of the music that it exports," Phiona Okumu, Head of Music for sub-Saharan Africa at Spotify, says to FORBES AFRICA.
"Afrobeats has grown significantly on Spotify. In South Africa, Amapiano started out as an underground genre where music was shared amongst artists and producers via applications such as WhatsApp. It has since become one of the most popular genres on the continent and has gained great momentum internationally."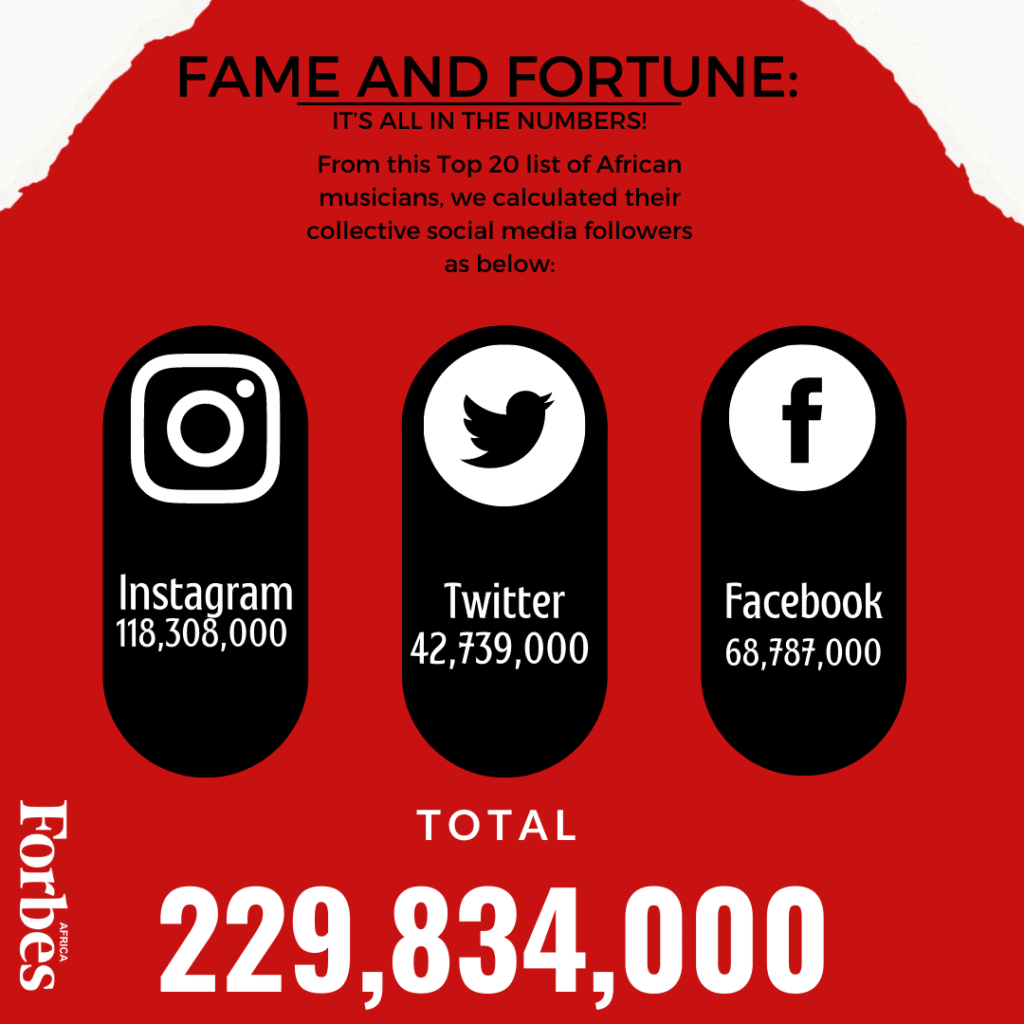 "Starting off in 2017, we saw South Africa leading the way in terms of digital music streaming revenue as compared to Kenya and Nigeria. 2020 then saw Nigeria's total streaming revenue beat that of South Africa and is forecasted to grow exponentially until 2026 with South Africa and Kenya continuing at a steady growth rate," Motaung adds.
In Tanzania and Ghana, there is still a big focus on recorded music which will contribute the respective countries' growth. In Ghana, recorded music is set to grow "further" with over $9.4 million in 2023. For Tanzania, the music market is expected to increase at a 6.9% CAGR over the next five years being worth $6 million in 2023.
Lwazi Mngoma, Creative Director and Entertainment Curator at OGO Creative, a strategy-driven agency with its heart in multi-scale live production, states that African music is once again at the epicenter of global music trends. OGO specializes in creative ideas, strategy, content creation, event production, and project management.
"The captive audience garnered by Amapiano and Afrobeats during the Covid pandemic helped the
two long-standing genres create new superstars and provide a sound that has influenced global [stars] like Chris Brown, Drake and even Beyoncé," Mngoma says. "The seemingly African way of tying genres to dance moves has further increased the two genres' visibility and influence."
According to Motaung, social media has also played a significant role in promoting these increases that have been seen on digital streams especially.
Evidence of this is Master KG's global hit Jerusalema which now has more than 500 million views on YouTube.
PwC believes that the route Jerusalema took to worldwide popularity after its release in December 2019 is an example of the new pathways to success for African artists – using social media and new types of distribution platforms. Spotify is entering local African new markets, to help "ensure that sounds and stories that once remained local can reach a global audience".
Platforms like TikTok are also changing the music industry. In October 2020, British-American rock band Fleetwood Mac reached several new milestones in their acclaimed rock career: their song Dreams re-entered the Billboard Hot 100 chart for the first time since its 1977 release.
The track reached 8.47 million streams in one week, easily its highest weekly total of all time – without any promotional push. All it took was one man, a skateboard, a very large bottle of cranberry juice and a video of his morning commute uploaded to TikTok.
"Social media and tech platforms are changing the way we consume music," Motaung further explains.
"Revenue in music streaming in Africa is expected to grow to $493 million by 2025… Digital music will continue to grow revenues on an upward growth trajectory."
Millions of Amapiano streams on Spotify come from countries such as the United Kingdom, the United States, and Nigeria – evidence of the genre's widespread popularity, according to Okumu.
"Africa is one of the fastest-growing music markets in the world and there is an increased demand for our music; people are demanding African music and our wealth of genres and artists the world over," Okumu adds.
"It is clear that African music is getting the recognition it deserves and the continent's distinctive sounds are taking the world by storm, this includes Amapiano, Afropop, Afrobeat, Gengetone and more."
"The future of the African music industry is bright across a plethora of genres…" adds Mngoma, "We know the continent is in good hands musically, so all that is needed is even more support from the global scene, mass media, and the recording industry as a whole."
As FORBES AFRICA celebrates these 20 artists from across Africa (unranked and in no particular order), we look to them for their views on the industry and the myriad ways they have contributed to the growth of the continent.
Despite the challenges that Africa experiences, these artists have demonstrated time and again why Africa should be at the forefront of conversations when it comes to the global music and entertainment industry.
Angélique Kidjo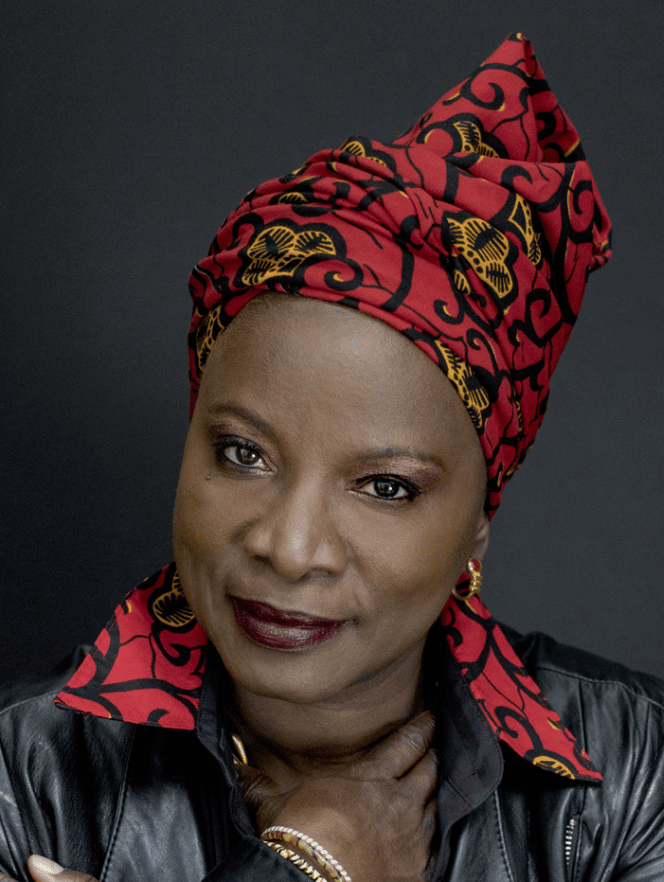 (Interview by Renuka Methil)
Spotify Monthly Listeners: 505K
YouTube Total Average Views: 21 Million
SOCIAL MEDIA NETWORTH Instagram: 465K
Twitter: 96.7K
Facebook: 2.4 Million
TikTok: 37.4K
The winner of five Grammys with 14 albums to her name, Angélique Kidjo is one of the greatest artists in international music today. Time Magazine has called her "Africa's premier diva" and she has cross-pollinated the West African traditions of her childhood in Benin with elements of American R&B, funk and jazz, as well as influences from Europe and Latin America. She recently released Queen of Sheba – it's on Spotify – with Ibrahim Maalouf from Lebanon. In an exclusive interview with FORBES AFRICA from Paris, Kidjo says she is right now, in a moment where "things are blooming in her inspiration zone". She talks about life, work, and the road ahead for her – and African music. Excerpts:
Q. At age 21, you became a star in Benin, with the album Pretty. But you had to quietly flee your home for Paris at 23, because of the regime that took over in Benin. It was Paris in the 1980s and you were at the prestigious jazz school, CIM. How did you connect with African music? What were you influences at the time?
A. My permanent influence in my music until now is always the culture and tradition of my country. The magnificent thing I learned from my musical journey doing my trilogy album tracing back the roots of slavery through music, is that there's not one music in which I don't find Africa, it does not exist. We live in Africa not knowing and realizing the power of our culture, how we have ruled the music on the planet. People can say no to it, but it's okay. That fact is it's never going to disappear. Because we are all from Africa – homo sapiens came from Africa. And for me, in that journey, looking back at my culture was something that empowered me the most. I wrote a song called The Sound of the Drums. Because I have to come back, after all this, I said to myself, 'I have got to figure out if I am dreaming, if I am fantasizing, I am romanticizing the power of my drums and the music of my continent and my country'. And I went back, the awe was still there… And I've been booed, been bullied, and asked 'is this classical music, you can't say this', and I say 'I will prove to you one day'. All the way, it's proving to people that everything I do is to build cultural bridges for people to see not only through music that we have one music, but also we are one humanity, we are all unique.
Q. When you went on stage to receive your Grammy this year (Best Global Music for Mother Nature), was there any other emotion you felt that you didn't the previous four times you received the award?
A. I did not expect to win, even though I was nominated three times in that category. Because the competition was tough. Being nominated is already a great honor. For me, each nomination is [proof ] my work is out there. People are paying attention to what I do. When I won, I was humbled and didn't know what to do…
I was in total panic because I did not expect to win. For me, winning a Grammy is not only my work – and I work hard – but also [that of ] the people that come and share the talent with me. And we have a conversation about climate change on this album with new artists.
Since I've written my autobiography (Spirit Rising), I've been doing a lot of talks at universities, and it's always exciting, challenging, and thrilling to speak to youth in campuses. They have so many ideas. I've been sitting with deans of universities, telling them how come we do not prepare our kids for
the workforce… You can't just give them education and let them run out like that, it's not productive or constructive for us, because we lose a lot of great people the way we are doing this.
Q. On young people and artists, your album Mother Nature also featured Africa's young superstars, such as Mr Eazi, Yemi Alade, Burna Boy… what was that experience like?
A. What I learned from them is their professionalism – it's mind-blowing. Every music that had been sent was spotless. I had waited for this day… And on top of being artists, these are entrepreneurs, they understand they have to be free. [In my time], I had to sign a contract for 10 years… These kids have the right to do whatever they want. They sat back and learned from my experience, and the experiences of Youssou N'Dour, and Salif Keita. And they don't want to take that road. They want to be free in their own right and they are right to be free. And they have to learn that to last, they need discipline: when you say you have got to deliver, you have to deliver. Because when you come from Africa, it's a double tragedy, because they expect you to be late, they expect you to do a job that isn't good, everything goes against you.
You always have to prove that what you say is what it's going to be and you can deliver.
Q. Is that perception changing globally now?
A. Not really. It's changing but slowly, because those young artists are filling up big venues, and they are unapologetic and taking whatever opportunity they have to be here. Some people are resisting that thinking that it's going to be a fashion that will dwindle, but it's going to last and they're going to come to the ball. They're going to jump on this boat sooner or later.
Q. What is in the next phase of your career?
A. I don't know what the future holds. But what I know deeply at the center of my work is that if you don't see your own humanity, you can't see humanity in anybody. If you have freedom and you are not fighting for the freedom of others, you don't have any. It's not just words for me, it's fact. When we lose sight of those principles, of those self-evident truths, we put ourselves in danger. Because when we allow the bully to walk away with crimes without being punished, they will knock at your door and do the same thing. Our complacency and silence have allowed many people to live a very difficult life that was unnecessary.
So for me, my energy comes from the fact that I believe that what is true is true, what is fair is fair, and let's work together. And in that, there is no concept of color, of language, of religion, nothing!
Q. You have global fame. What does fortune mean to you?
A. Fortune for me has never been a matter of money. Because money is a tool that allows you to buy things. But essential things, money can never buy – such as health, and the air you breathe, which is polluted. You can have billions of dollars in your bank account, but you can't clean that air.
You have got to be happy with yourself and content with what you have to be able to live a balanced life… What is our purpose on this earth? And that's the question I ask all the time, you have to find your purpose before making any plans. And when you start making plans, don't make one, have plan A, B, C, D, E, as much as you can. If one door closes, get to the next one. You can fall all the way beneath earth, but you can always rise if you want it…
In business, having money is a good thing but my father's mother always used to say to me that if you are given the choice to choose between your friend and wealth, choose your friend because your friends, when you need them, will be there. When you are down, they will come and talk to you.
Q. And is social media your thing?
A. That is part of the game. But being on stage is what creates a career. I never liked being in a studio, because I started my career on stage. But I knew that going through the studio was compulsory for me to be able to have a career. So doing both is equally important.
Tiwa Savage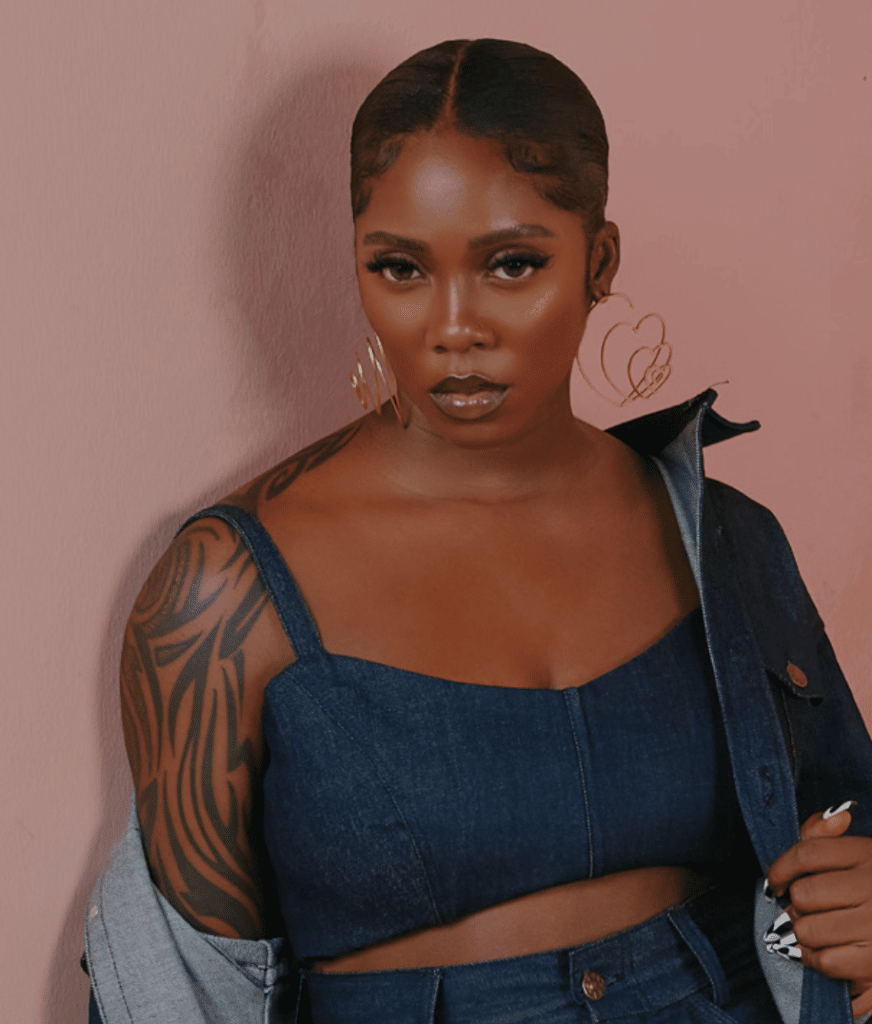 Spotify Monthly Listeners: 1.2 Million
YouTube Total Average Views: 382 Million
SOCIAL MEDIA NETWORTH
Instagram: 15.3 Million
Twitter: 5.3 Million
Facebook: 7 Million
TikTok: 1.8 Million
In 2018, Tiwatope Savage won Best African Act at the MTV Europe Music Awards, becoming the first woman to win the category. It marked a milestone but also the responsibility to do more for both young Africans and African women trying to enter the industry.
Currently on her European Tour and speaking to FORBES AFRICA from Norway, Savage says: "I feel like I carry a lot of that burden, as a female, as a leader and female Afrobeats artist. Coming into the game, there really wasn't that many females doing it, and there still isn't. But there's more now than when I started."
Savage was born on Lagos Island in Nigeria and describes her upbringing as quite strict as the only girl growing up with three brothers, which is why she started in the music industry quite late.
"But it felt good to be protected. And my parents were very strict about us getting good grades in school. My dad and my mom did listen to music, but I didn't grow up in like a musical home where my parents were into music or singers. It was more like 'you're going to grow up to either be a doctor or a lawyer, not a musician," she explains.
This is quite the common theme for many young women on the African continent where it was expected that you either enter a traditional career or a 'traditional' home where you would become a housewife.
This is also why Savage chose to go into music much later, in fact, she obtained her business degree first.
"I got my first degree in business and accounts. I also went to Berklee College of Music. I studied jazz. So I got a second degree in music."
The business degree has come in handy too for her as an artist.
"It's called the music business," laughs Savage. A lot of artists, in her opinion, would find it difficult to succeed in this industry not because of their lack of talent but due to a lack of knowledge when it comes to the business aspect of things.
Savage jokingly calls herself "shrewd", diligently going through all her contracts, business details, and the receipts "for even just a Starbucks coffee".
"It's as important, sometimes even more important for you to be able to handle the business element because the music thing, and the entertainment part comes naturally; that's a gift that God has given
to you naturally," Savage explains. "Sometimes you don't even have to think about that, you just have to harness that gift. But the business side, you have to learn about it. Because that's not natural, we're not
born with that knowledge, you need to learn it.
"At the end of the day, you can't leave your business or your finances to complete strangers unless maybe your mom or your brother is managing you."
Savage moved to London when she was 11 but says her heart has always been with the continent even when in America collaborating with artists such as Snoop Dogg and Fantasia. It was when in Los Angeles in 2012 that Savage was inspired by the growth of the Nigerian music industry, around which time Afrobeats was gaining in popularity.
Savage chose to move back to Nigeria.
What made her return? She puts it simply: "It was the sound."
"There was something so raw about it. There was a soul that I wasn't getting from the music that I was surrounded by, living in America… I would find myself listening to it in the car, in my house. And, obviously, but when I go out to clubs, or when I go out to wherever; I probably wasn't intrigued then. And I found that I was bored. I just wanted to go home and listen to the latest Wande Coal song."
And so she did.
"It's so good to be African now. We are so proud of it and we're shouting about it from the rooftop."
But there's still much work to be done in the industry, especially for women and young people.
"When I started, I didn't come into it trying to be sexy, but I was labeled that. It was hard for a lot of people to accept because women shouldn't have tattoos, women shouldn't really wear revealing clothes, especially women who are married or a woman who is a mother," Savage explains.
"So obviously there was so much backlash. And now, a lot of female artists too, who are coming in, who are sexier, or have tattoos, or are more controversial than me don't even get 10% of [the backlash I got]. And that's fine. But it was the journey that was hard to get the culture to understand and embrace that.
And sometimes, you know, that's just your calling and you're the scapegoat."
In a story as old as time, the music industry still has work to do when it comes to equal opportunities for female artists.
Although Savage believes that transformation is only 10% better, the work that needs to happen is for female artists to be given the same sort of preferences as their male counterparts.
"We just want the same equal platform…," says Savage. However, that said, Savage thinks the future of the African music industry at this point looks promising. This is a fitting sentiment even as the second part of Savage's Water & Garri album is set to release in August.
"The future looks beautiful right now, it looks like you know when you just have a newborn baby, and it's just like it could do no wrong," she laughs. "I really don't know what the future would hold. I can't tell but I would only hope that African music will and should become a stable genre."
David Adedeji Adeleke (Davido)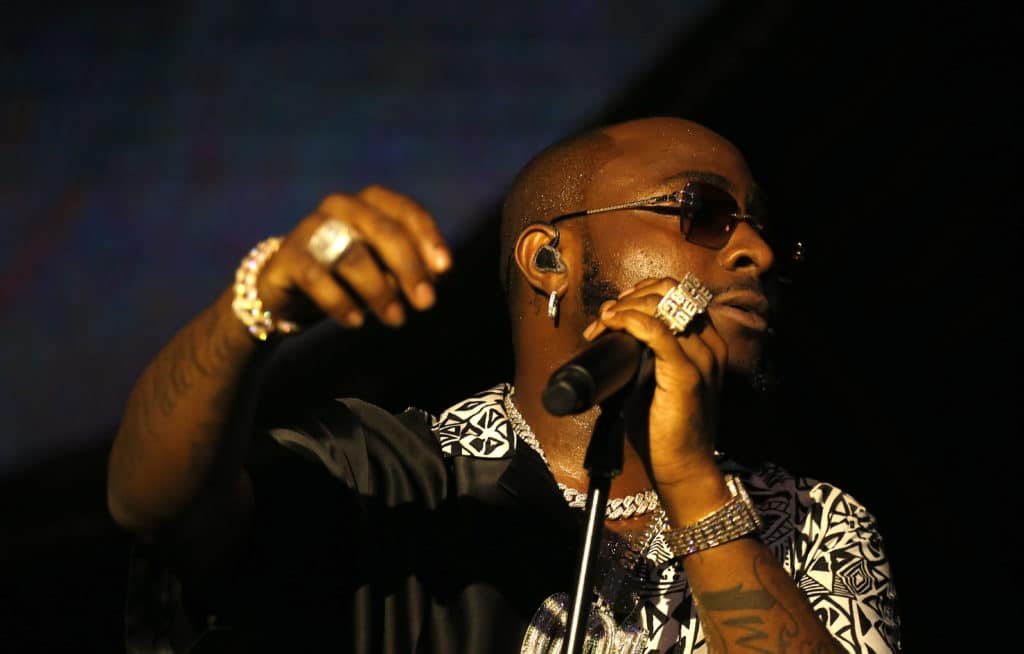 Spotify Monthly Listeners: 5.3 Million
YouTube Total Average Views: 1.1 Billion
SOCIAL MEDIA NETWORTH
Instagram: 24.6 Million
Twitter: 11.8 Million
Facebook: 4.3 Million
TikTok: 933.3K
David Adedeji Adeleke, aka Davido, is known the world-over for his clever blend of traditional African elements with global mainstream pop. A recent smash-hit was his collaboration with American rapper Jonathan Lyndale Kirk, known professionally as DaBaby, on their song Showing off Her Body. The video was filmed in Nigeria and directed by FORBES AFRICA's 2022 30 Under 30 list-maker Apampa Owolabi, known as Dammy Twitch.
"Working with Davido is an experience on a different level," Owolabi tells FORBES AFRICA. "He's always into his craft and he always wants to portray Africa in good light. He's someone that keeps every member of his team on their toes. His message of bringing the rest of the world to Africa is very important in the sense that Africa is known for tropical beaches that rival some of the world's best, vibrant cities and geological wonders."
Adeleke is known for working hard to bring the rest of the world through his music to Africa and this is what makes him an icon.
On The Daily Show with Trevor Noah recently, the artist told Noah that on his current tour in the US, he plans on bringing all of Africa closer to America.
"On the tour I want to say this," he said on the show, "We rise by lifting others. It's basically me not only bringing myself to America but also bringing everything else… I will only be wearing African designers, having African dancers, backstage I am having African chefs come in and make different types of African food."
Since his rise to fame, Adeleke has won multiple accolades, including BET awards and MTV awards. He has also signed on several endorsements. In June, he also officially partnered with LVRN, the Atlanta-based management collective.
"God has been very good and he continues to be. I am very fortunate," he told FORBES AFRICA in 2017.
Kgaogelo Moagi (Master KG)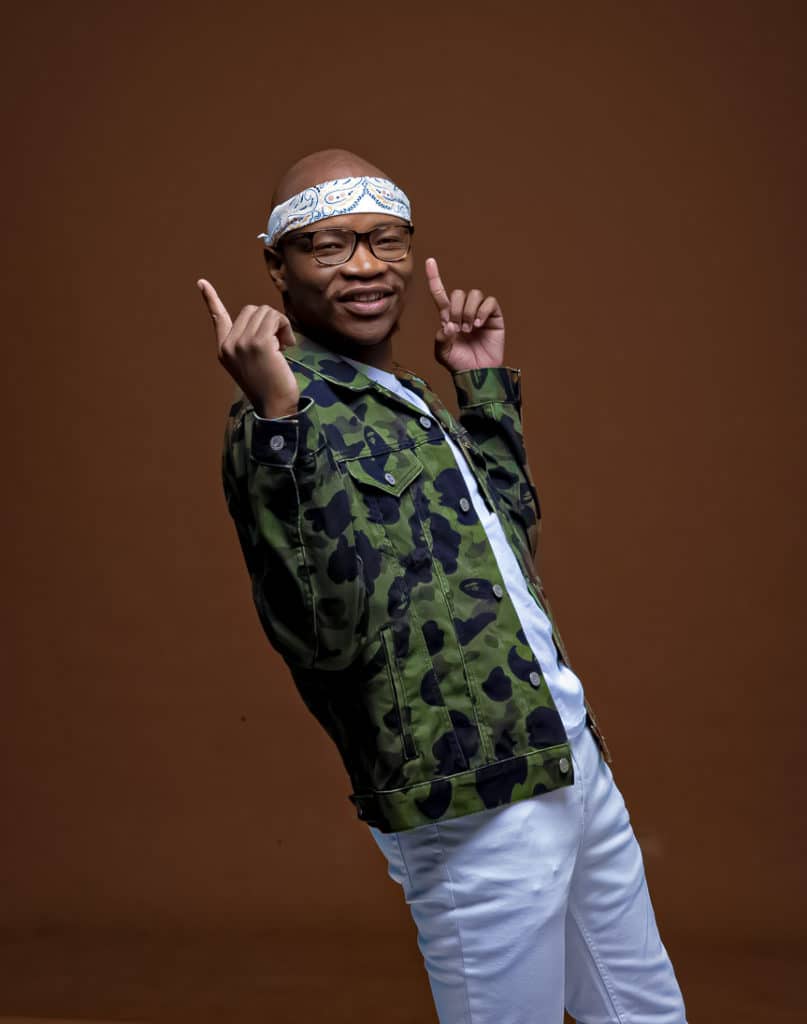 Spotify Monthly Listeners: 3.8 Million
YouTube Total Average Views: 130 Million
SOCIAL MEDIA NETWORTH
Instagram: 2.1 Million
Twitter: 338.1K
Facebook: 3.6 Million
TikTok: 198.9K
In 2020, when Covid-19 descended and forced people into their homes, TikTok kept everyone closer and calmer, and a big part of that trend was South African artist Kgaogelo Moagi, popularly known as Master KG, with his global hit, Jerusalema. FORBES AFRICA sat down with the Limpopo-born award-winning artist for more:
Q. What are some the highlights from your career that you cannot get over?
A. The first time I got my record deal was in 2017, when I started with Open Mic Productions, it just came as a surprise because in 2016 I had a song called Situation, which was doing so well, on the streets and in taverns and bars in Limpopo… I could not believe it. Like my music was not even playing on TV or on radio. There was just that organic love that goes on the streets, people just showing up. But when they [Open Mic] came through, it showed me that there's something in me. And also, another highlight is when my music started playing on radio stations and TV stations. I remember I started seeing myself on Channel O or MTV, Trace. I remember I would wait the entire day to see if they are going to play my songs and the moment they did, it was crazy.
Q. Why do you think Jerusalema connected with so many during such a difficult time?
A. It's almost got a spirituality thing to it, there is that message of hope like any of my songs, but I never really got to understand what happened with that particular one. I just believe that [it was] the timing of everything – Covid-19 was a time when people didn't have a lot of hope, and people didn't have something to lift their spirits. I believe that song was like a healer in a way.
Q. There are a lot more people outside Africa wanting to do business and music with people in the industry on the continent. What do you think this means?
A. I think we are elevating as Africans in music and we are finding our dopeness, our real dopeness and the rest of the world is coming to the party. For example, in South Africa, we have our own sound like Amapiano, which is so crazy and it's elevating throughout the world. And also in Africa as a whole with Afrobeats which has been doing well for quite a number of years now. I can see everyone wants to jump on Afrobeats, you know, all the stars all over the world.
Q. How do feel about being celebrated as one of our top entertainers on the continent?
A. I feel so blessed, so shout out to FORBES AFRICA for giving me this opportunity. I believe not everyone gets this opportunity to be celebrated. So I'm very humbled and I just want to thank everyone from the FORBES AFRICA team.
Major League DJz (Bandile and Banele Mbere)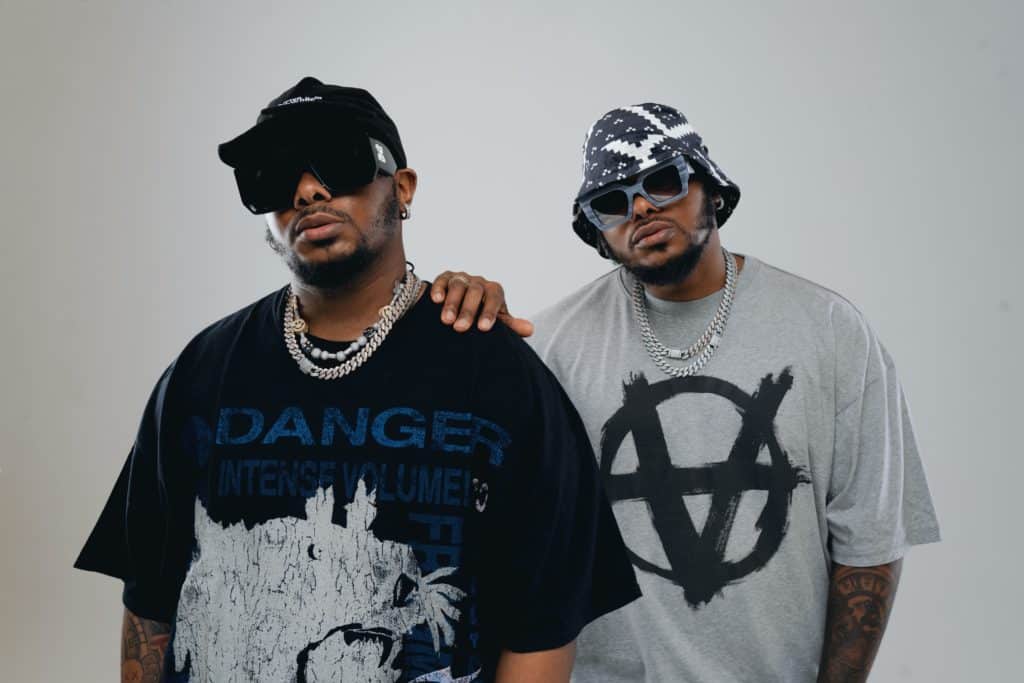 Spotify Monthly Listeners: 325K
YouTube Total Average Views: 131 Million
SOCIAL MEDIA NETWORTH
Instagram: 1.7 Million
Twitter: 365.5K
Facebook: 3.2 Million
TikTok: 219.5K
The life of an entertainer is a 24/7 job, as proven by this duo. For the second time, FORBES AFRICA catches up with the two while on their European Tour (the first time was last year for a story on South Africa's Top 10 Amapiano artists that also featured them). This duo has been making waves in Europe in turn placing the Amapiano genre on the map.
But Bandile and Banele Mbere, known to the world as the Major League Twins or DJz, did not start out in the music industry the conventional way.
"We started out as promoters who used to throw parties," Banele says to FORBES AFRICA from the
The United Kingdom. "At these parties, DJs wouldn't show up on time and we started learning how to play. And then in grade 12, we started taking it more seriously."
As unconventional as it was, Banele says that getting into the music industry in South Africa is difficult no matter how you go about it.
More specifically, the difficulty lies in the business component of the music and entertainment industry. Banele believes that South Africa does not as yet have the concept of business managers and management right as artists sometimes don't even know "how much they get paid".
But nevertheless, the twins have been working and succeeding. Recently, they sold out Brixton Academy in London, "which is a big achievement for Africans because there's only a few Africans that have done it, from the likes of Burna Boy, Davido and Black Coffee".
Nsikayesizwe David Junior Ngcobo (Nasty C)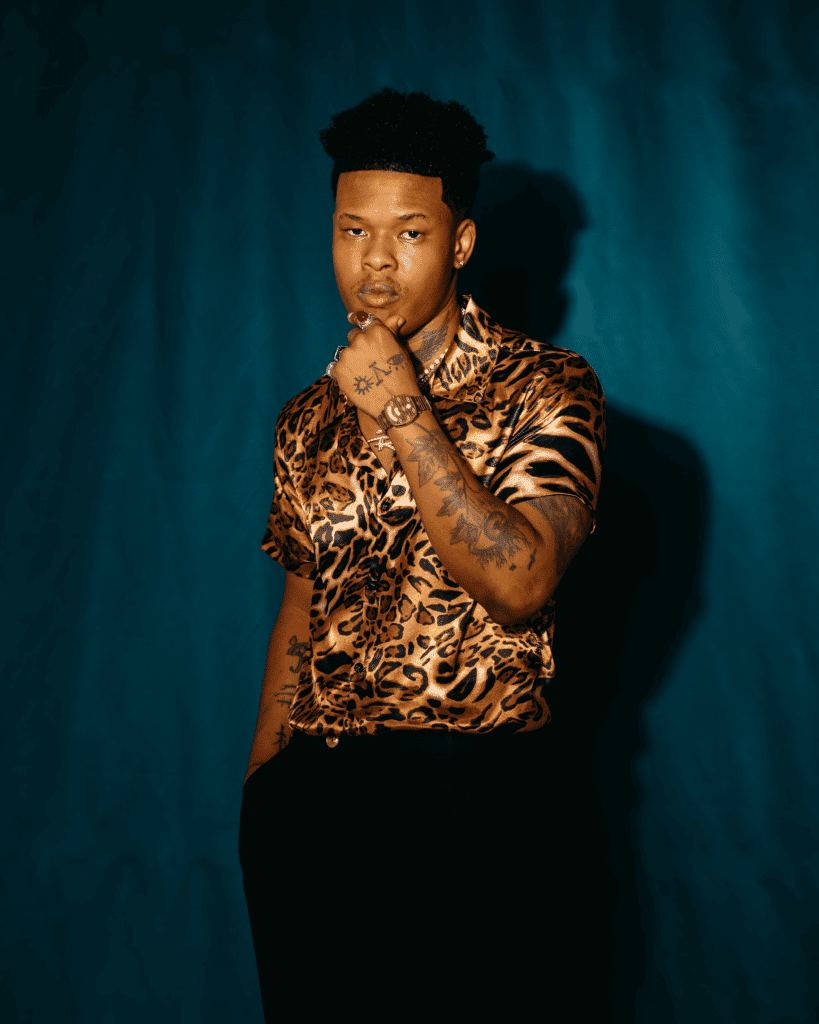 Spotify Monthly Listeners: 610K
YouTube Total Average Views: 146 Million
SOCIAL MEDIA NETWORTH
Instagram: 3.8 Million
Twitter: 2 Million
Facebook: 3.7 Million
TikTok: 579.5K
ON THE STATE OF THE MUSIC INDUSTRY IN AFRICA
"It's doing very well. I don't think I have had a single complaint like we see our African artists doing crazy shows all over the world. You see them in Dublin or Indonesia, sometimes they go to Egypt, and then back to the US and then the UK. And these guys fill out real venues with like, 20,000 people and more."
Seven years ago, a 19-year-old Nasty C (Nsikayesizwe David Junior Ngcobo) released one of the biggest songs of 2015, Juice Back. Surprisingly, this is not the song Ngobo is most proud of even if the lyrics Man man man you should hate yourself is etched in almost every South African's memory. FORBES AFRICA sat down with Ngcobo to talk about his journey so far:
Q. What song in your entire career are you most proud of?
A. It would definitely have to be SMA, because that song actually took me about two or three years to finish first of all. I was like, 'man, if I put this out, people are just not going to vibe with it'. I thought it was too pop-ish. Because of everything that was out at the time, I remember it was like a lot of hype stuff. So every time we played it in the car, I thought this could be like a soundtrack to a movie or something. This could be crazy. But then I was also just too scared to finish it and put it out; that was self-sabotage. But then a couple of years later, I finished it and put it out and it does exactly that; Netflix picks it up. It does amazing things for me. I like to finish my sets on stage with that song because I get to do this thing where I listen to the fans sing it.
Q. You were on the FORBES AFRICA 30 Under 30 list when you were only 21. What are the biggest changes you've seen in your career specifically since 2018?
A. Aside from like, the obvious stuff, like obviously, I'm a bigger artist, I've grown musically, I'm a little more inclined now. Put that aside, I guess it would be like a lot of people look up to me and call me big brother. But these guys are taller than me and it bothers me because I feel like they are trying to make them feel old. But it does feel good that they look at me that way.
COLUMN: My Journey As The Princess Of Africa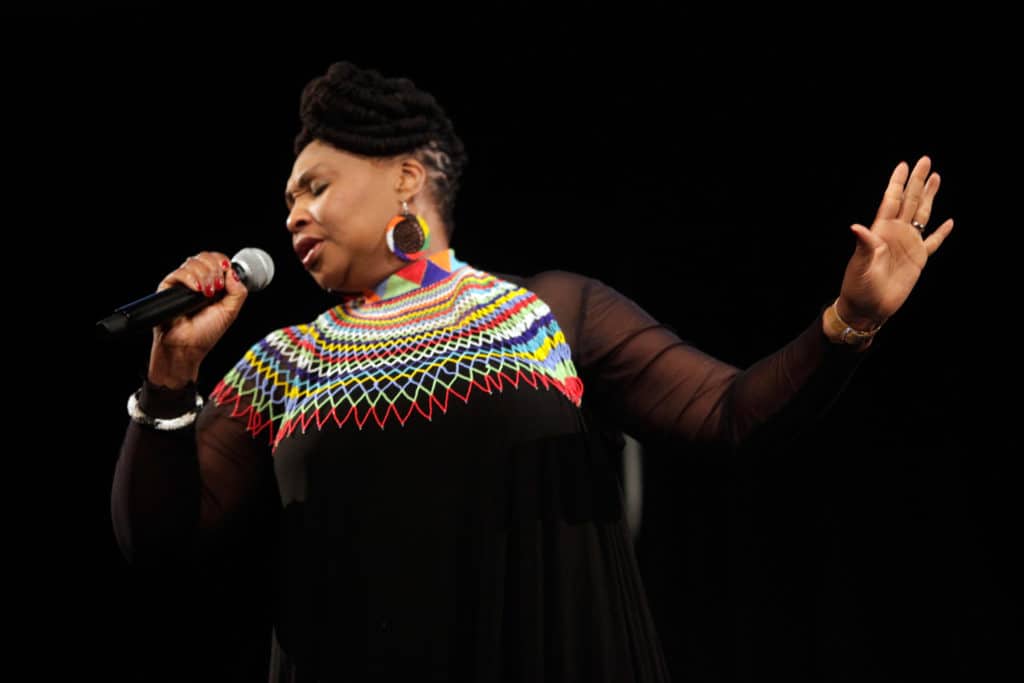 Spotify Monthly Listeners: 35K
SOCIAL MEDIA NETWORTH
Instagram: 129 K
Twitter: 67.6K
Facebook: 460 K
By Yvonne Chaka Chaka
In 1985, whilst I was getting ready to go to university where I was meant to study law, I was invited by a stranger to accompany her to the SABC because they were looking for young presenters and dancers at the time. On arrival there, she was invited into the boardroom while I marveled at all the pictures of the famous people and wondered if they would walk in at any point to the reception area. After that lady was done, I was then invited into the same boardroom by a white man who played I'm in love with a DJ, which was unreleased at the time and gave me the lyrics to sing. He said to me: "This is the voice I am looking for", gave me R20 and asked me to come back on Monday.
The rest, as they say, is history.
Music was a stepping stone for me. Apart from music, I work with different UN organizations, and different sectors of society as well as with young ladies, and have started a social enterprise and advocacy radio station called WOMan Radio, which is an online radio station.
I realized that music is something I am passionate about and realized that this would be a great platform for me to air my views.
One of the biggest challenges that I faced in my career is that, while performing at festivals, we would have to sometimes censor our words, especially when singing songs like Free Mandela or Winnie Mandela because such songs would get people excited and the police at that time would harass us to stop so they could get the crowds under control.
Everything in my career has been a highlight, be it performing for two people or in front of big stadiums, as well as being able to meet great faces in beautiful places.
Besides Covid-19 and piracy disrupting the industry, I am just happy that today's generation is recognized worldwide and I think that is how music should be and now that our young people are coming with new and different beats, they are being embraced too so it's exciting for me as part of the older generation.
There's a huge difference between then and now. Then, the only way of disseminating music was through radio, cassettes, and newspaper articles. Now, there are a lot of avenues to distribute music to reach the world and things have really changed for the better.
Music has come a long way and music will always be there. All I wish for is that whatever music is there should turn into rands, dollars, and euros for the artists. Music should be profitable.
Ayodeji Ibrahim Balogun (WizKid)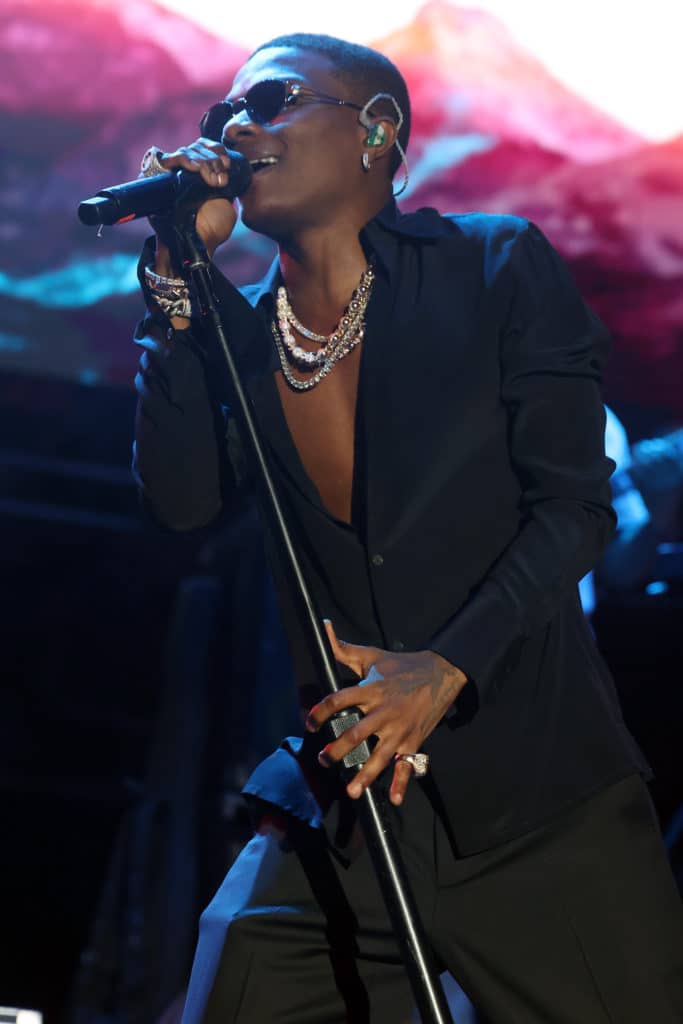 Spotify Monthly Listeners: 8.7 Million
YouTube Total Average Views: 1.3 Billion
SOCIAL MEDIA NETWORTH
Instagram: 14.9 Million
Twitter: 10.3 Million Facebook: 7.2 Million TikTok: 198.9K
Known to the world for being one of the artists instrumental in spreading Afrobeats as a genre to the rest of the globe, WizKid, born Ayodeji Ibrahim Balogun, made his mark with Holla At Your Boy in 2010 and has since won many awards, among them the BET Award for Best International Act Africa in 2012 and MTV Europe Music Award for Best Worldwide Act.
Balogun's contributions to the Nigerian music scene have earned him several accolades, most notably the Grammy Award for Best Music Video as a lead artist on Beyoncé's Brown Skin Girl, making that his first-ever Grammy.
He also played at Birmingham NEC in the UK, which seats over 15,000 marking the star's first performance at The Wireless Festival since 2017.
Balogun is set to release his fifth album, More Love Less Ego, this year, and also headline the Rolling Loud Toronto hip hop festival.
COLUMN: 'Afrobeats Will Be The Biggest Genre In The World'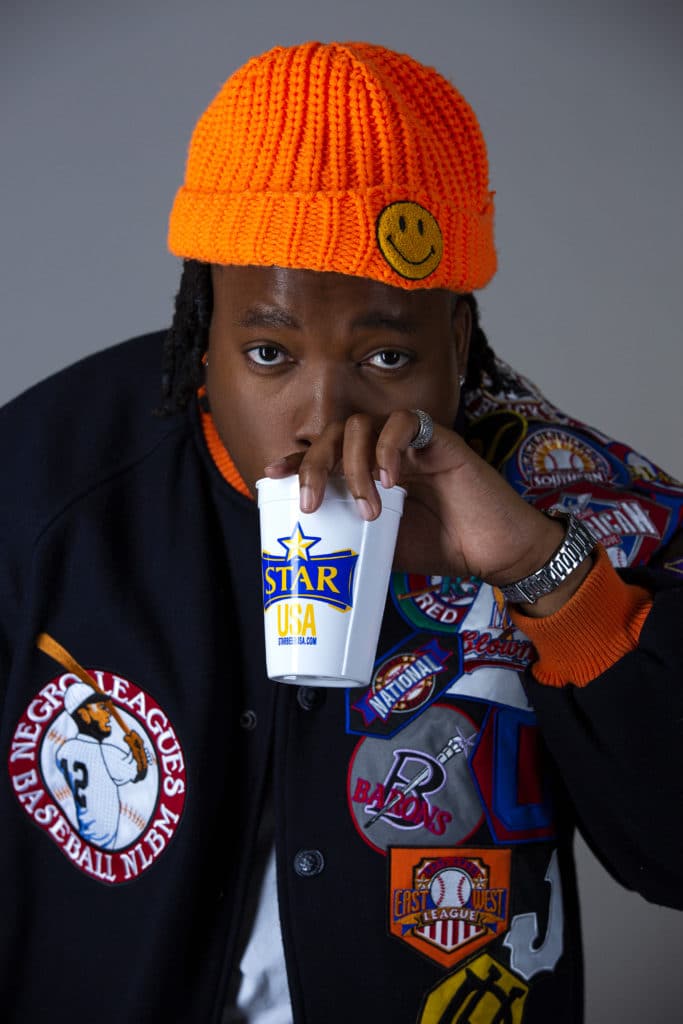 BY AYOOLA OLADAPO AGBOOLA (KDDO)
Spotify Monthly Listeners: 101K
YouTube Total Average Views: 1.9 Million
SOCIAL MEDIA NETWORTH
Instagram: 353K
Twitter: 33.6K
Facebook: 340K
My journey into music started when I was 14 years old. I started as a DJ and developed into a producer, and the rest is history.
I realized my passion for music at a very young age, I was three or four years old, and I can still remember vividly how excited I used to be playing the piano, playing instruments and drums and everything. And after a while I started DJing, I started producing music and just naturally that became a part of the industry and so did I when I was 17. That is when I had my first song.
But the most challenging part of the music, business and the industry, besides the fact that you spend a lot of time away from your family (which is really hard on me), is that I've lived in South Africa, I lived in Nigeria, and right now I live in America. I'm always actively trying to create music for these three different spaces at the same time. And the tricky part is how to get songs that will serve all of these markets simultaneously is crazy; it is not the easiest thing to do.
However, right now, I feel like Afrobeats and Amapiano are genres that are really in an amazing space; we're growing superfast. And the world is starting to listen and embrace our sound and music, which is a beautiful thing to see.
I feel like this is just the beginning.
The more music we put out, the more people that are going to start to find out about this music; this is just a start for us and it is still going to get a lot better.
So many things have changed between the time when I started and now. Afrobeats back then was just like, local music for us as Nigerians. It was music by Nigerians for Nigerians. But now it's pretty much African music for the world. That's just on the surface level; if you go deep into the business of it, the market is getting really big. The audience is getting bigger. The biggest of the biggest artists all over the world are jumping on it.
I really think Afrobeats is going to be the biggest genre in the whole world in a couple of years. There's no doubt, it's inevitable.
If there's any genre that brings so many people together and puts so much culture into one mp3, that embraces every language and every vibe, that will be out for beats, and that's what the world needs.
And I feel like people are starting to realize it. Afrobeats is a cheat code to getting a global smash hit!
Damini Ebunoluwa Ogulu (Burna Boy)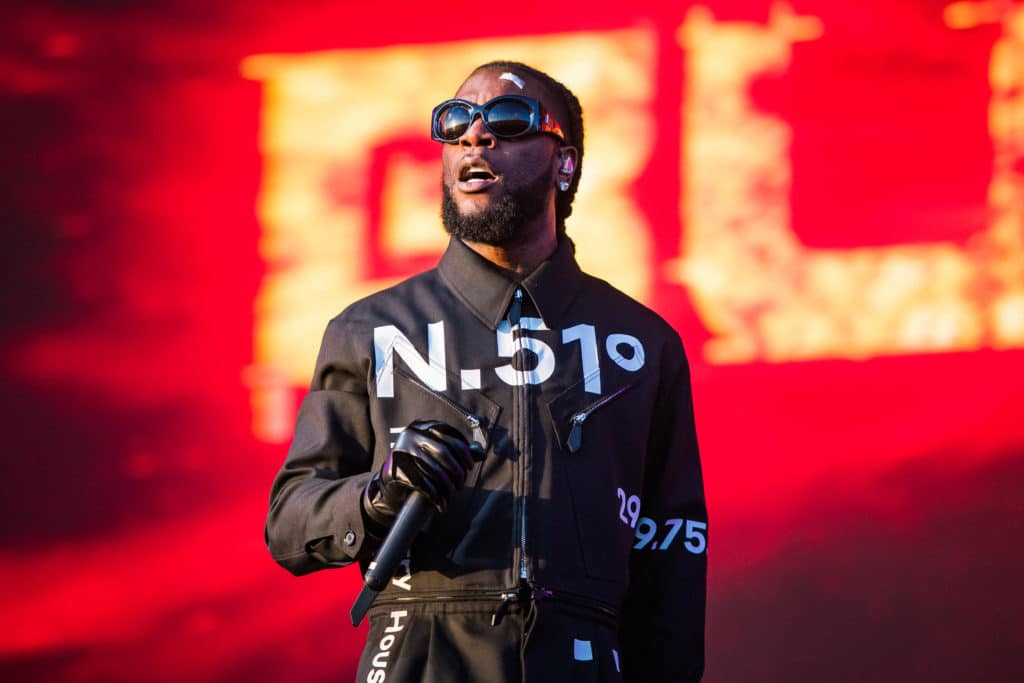 Spotify Monthly Listeners: 11 Million
YouTube Total Average Views: 1.3 Billion
SOCIAL MEDIA NETWORTH
Instagram: 10.7 Million
Twitter: 6.9 Million
Facebook: 6.6 Million
TikTok: 1.2 Million
A name that stands for Nigerian music and an icon and catalyst for the industry in Africa, Damini Ebunoluwa Ogulu, known professionally as Burna Boy, has become a global phenomenon.
The 31-year-old who rose to stardom in 2012 has won multiple awards but notably took home his first Grammy award for his album, Twice as Tall, in 2021.
"This is a big win for my generation of Africans all over the world, and this should be a lesson to every African out there: no matter where you are, no matter what you plan to do, you can achieve it, no matter where you're from, because you are a king," he said in his acceptance speech.
Releasing his sixth album, Love, Damini, in July this year, the Afro- fusion artist stated in a recent episode of Million Dollaz Worth of Game podcast that the genre Amapiano is making waves globally.
"It has already taken off, it's Amapiano, it's an SA sound, it's ours," he said in the podcast. "This is me putting you… when you are at home and chilling just type in Amapiano when you are on YouTube and check an Amapiano mix and it will change your life."
Raymond Shaban Mwakyusa (Ravanny)
Spotify Monthly Listeners: 481K
YouTube Total Average Views: 772 Million
SOCIAL MEDIA NETWORTH
Instagram: 8.1 Million
Twitter: 138.1K
Facebook: 2.2 Million
TikTok: 381.2K
Raymond Shaban Mwakyusa (Rayvanny) is a musical star who started young.
Hailing from Tanzania, the artist began his career in high school when he realized he had a passion for music. Having won freestyle rap competitions, he began attracting attention which led him to join one of the biggest record labels in East Africa, WCB Wasafi Records, under Diamond Platnumz' leadership. In 2016, a year after being signed, Mwakyusa released his first song, Kwetu, which became an instant
hit in East Africa.
However, in 2021, Mwakyusa founded his own record label, Next Level Music. That same year, he collaborated with award-winning Colombian artist Maluma for the title Mama Tetema, which was certified Disco de Oro (gold) in 2022 by the Recording Industry Association of America.
Nasibu Abdul Juma Issack (Diamond Platnumz)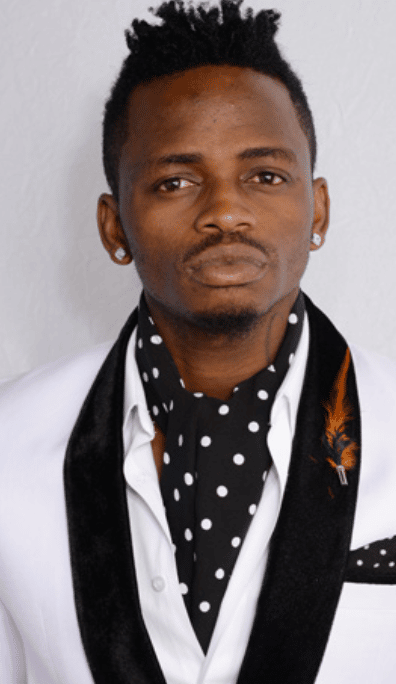 Spotify Monthly Listeners: 845K
YouTube Total Average
Views: 1.8 Billion
SOCIAL MEDIA NETWORTH
Instagram: 14.9 Million
Twitter: 1.2 Million
Facebook: 6.8 Million
TikTok: 1.4 Million
Now here's a name that makes you immediately think glitz, glamor and a lot of 'drip'. The rise to fame for Tanzanian-born Nasibu Abdul Juma Issack, popularly known by his stage name Diamond Platnumz, began exactly 12 years ago. However, not everything that glitters is gold, as the start of his career proved. At just 17 years old, after dropping out of school, Issack had to work odd jobs to be able to afford booking recording sessions. The Dar es Salaam native would sell second-hand clothing and pump gas to try to save up money, according to The Citizen.
His breakthrough came in 2010 when he released the award-winning song Kamwambie. According to BET, the now 32-year-old has earned over five dozen awards and nominations including one for Best International Artist. Furthermore, he is reportedly the most awarded artist in East Africa and the fifth most-awarded artist in sub-Saharan Africa after WizKid, Sarkodie, Davido, and 2face Idibia. But the big breakthrough that made him a household name? In 2020, the BBC reported that he was the first sub-Saharan African singer to get one billion views on his YouTube channel.
"Diamond Platnumz is very hard- working and has great showmanship," says DJ Edu, who hosts the weekly pan-African music show Destination Africa for the BBC World Service.
NotJustOK East Africa reports that Issack is also one of the most endorsed artists in East Africa, working with big brands across the globe such as Coca-Cola, Bel Air, and Pepsi.
Fally Ipupa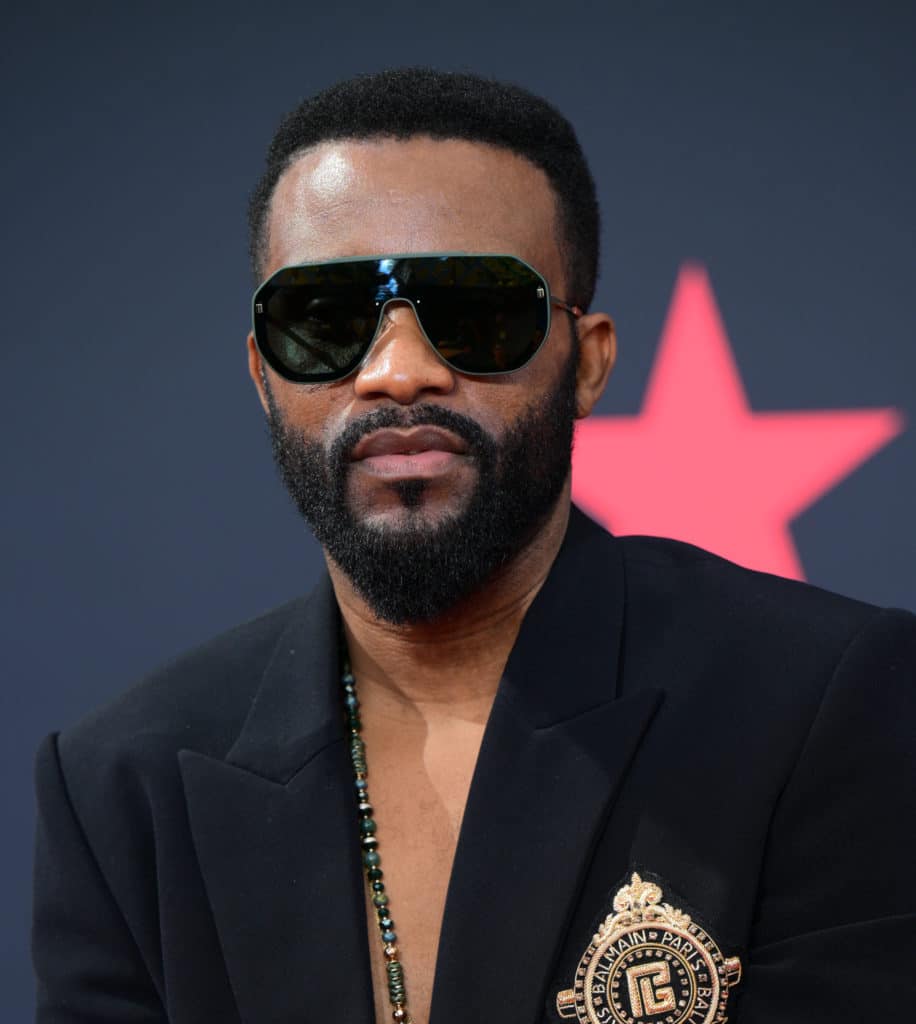 Spotify Monthly Listeners: 580K
YouTube Total Average Views: 1.1 Billion
SOCIAL MEDIA NETWORTH Instagram: 4.5 Million
Twitter: 1.1 Million
Facebook:8.1 Million
TikTok: 807.9K
The Congolese singer-songwriter, dancer, philanthropist, guitarist, and producer began his musical career in the late 1990s as a member of the band Quartier Latin International.
After rising to prominence in 2006, he left the band to start his solo career and released his first solo album Droit Chemin. His second album Arsenal De Belles Melodies (French for "arsenal of beautiful melodies") gave him wider recognition across Africa and beyond. The album featured such famous artists as 50 Cents.
OkayAfrica reported that the award-winning mogul has been the driving force in bringing his peculiar sound to music — a medley of soul, R&B, and the original styles of Soukous and Rumba.
"Too many things. For one, I was very young when I released that album. I now have more experience, maturity and a lot of opportunities worldwide. That album was like my first-born and I'm a totally different person now. My inspiration and ambition have changed over time," Ipupa said in an interview in 2021.
He released his sixth studio album in 2021, and has taken home multiple international awards like MTV Africa Music Awards, BET Awards and MTV Europe Music Awards.
Themba Sonnyboy Sekowe (DJ Maphorisa)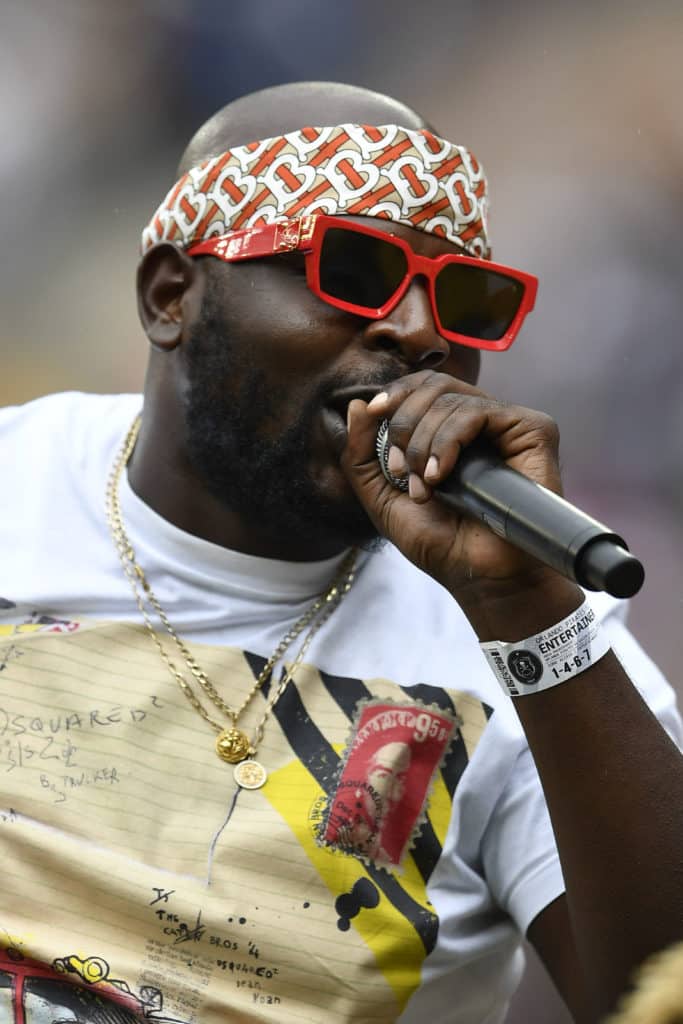 Spotify Monthly Listeners:1 Million
YouTube Total Average Views:114 Million
SOCIAL MEDIA NETWORTH
Instagram: 2.6 Million
Twitter: 1.6 Million
Facebook: 4.2 Million
TikTok: 961.9K
It's pretty obvious, DJ Maphorisa (Themba Sekowe) had to walk for multiple artists to run! Noted for his work in producing several hit singles for artists such as DJ Zinhle and Busiswa, a conversation about Amapiano cannot be had without including the Scorpion King himself.
The award-winning producer and DJ hails from the small township of Soshanguve in South Africa's capital Pretoria and has been praised for the work he has done for the Amapiano culture. Like Davido, having Sekowe associated or collaborating in your work is bound to be a "banger".
"The top Amapiano artist on Spotify is DJ Maphorisa (who is no stranger to the industry, having worked as a producer for artists like Drake and WizKid)," says Head of Music for sub-Saharan Africa at Spotify, Phiona Okumu.
"[He] consistently amasses millions of Spotify streams both in South Africa and globally. It's a genre that's shaping the culture. Amapiano artists aren't only seeing prominence on their home turf, with massive international audiences making up a significant chunk of the genre's listenership."
Lerato Moipone Molapo (Lira)
Spotify Monthly Listeners:54K
YouTube Total Average Views: 6 Million
SOCIAL MEDIA NETWORTH
Instagram: 337K
Twitter: 502.9K
Facebook: 987K
TikTok: 54.1K
When FORBES AFRICA last sat down with this songstress for an interview, she was making the best out of a bad situation.
"My trajectory was to be working in South Africa, the United States, and in Europe. And I've managed to be doing that for at least consistently the last eight years," Lerato Moipone Molapo (Lira) told FORBES AFRICA in 2021. "The first thing I realized was that Covid wasn't personal. A lot of our businesses almost felt like they were in trouble. But I was like, 'it's not personal, it's happening to everyone'.
"So, while I was in the media, there were opportunities to do shows online. Now, as an artist, the reason I don't like the idea of putting on my own show online is that South Africans don't attend online shows
in numbers," she added. "The opportunities I was getting was like a corporate or a magazine willing to fund the whole thing. And we just offered to the public for free. So that was wonderful."
As someone who has always spoken as "a businesswoman in music", as in her cover feature in the December 2015 issue of FORBES WOMAN AFRICA, Molapo stated that the pandemic had forced her to appreciate the virtues of virtual performances where there may only be an audience as big as 50 people.
But opportunities in business are something that Molapo has always thrived towards when it came to the music industry. The Afro-soul and R&B musician has released 10 studio albums, most of them having gone Triple-Platinum by the Recording Industry of South Africa.
Oluwatosin Ajibade (Mr Eazi)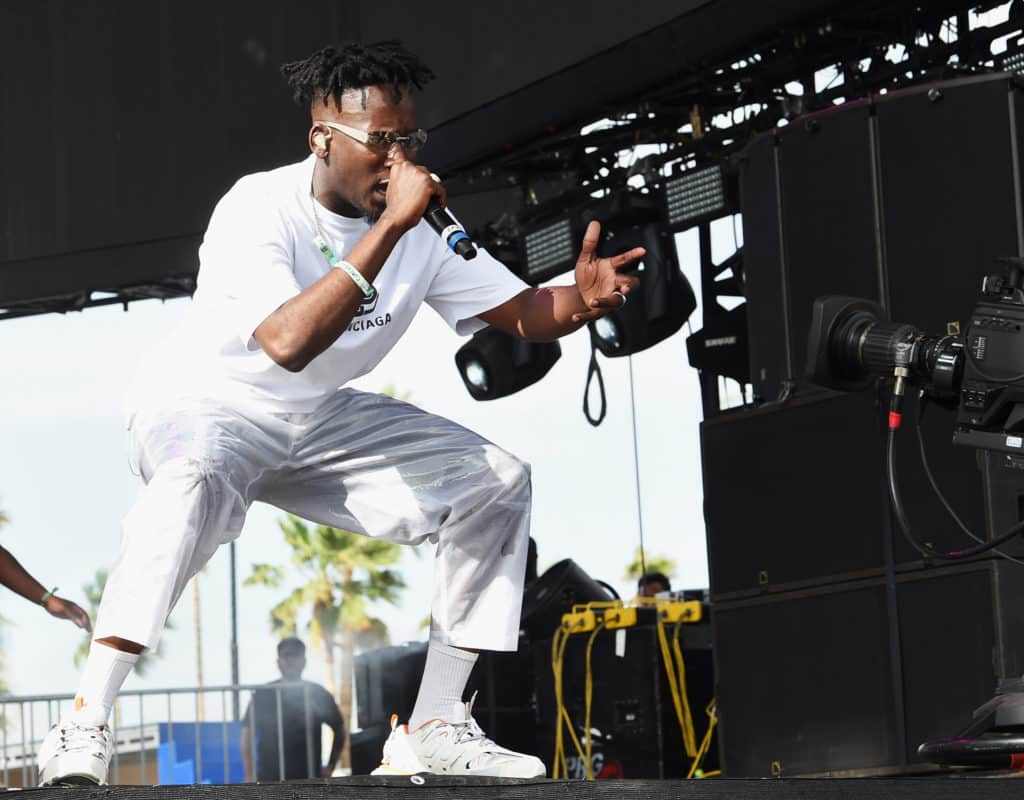 Spotify Monthly Listeners: 5.1 Million
YouTube Total Average Views: 433 Million
SOCIAL MEDIA NETWORTH
Instagram: 4 Million
Twitter: 2.9 Million
Facebook: 1.9 Million
TikTok: 284.1K
From Beyoncé to French Montana to closer home, Burna Boy and Tiwa Savage, this African music superstar has not only made a name for himself as a solo artist but has collaborated with some of the biggest names in the industry. Oluwatosin Ajibade, known as Mr Eazi, recently invited the world to view his creative process with Legalize: The Art Experience, a new short film documenting his collaboration with Benin-based painter Patricorel.
For his single Legalize, Ajibade tapped Patricorel, whose work he was introduced to while recording for the album in Cotonou, Benin. While the track finds Ajibade exposing his emotions as he celebrates his love for fiancée Temi Otedola, Patricorel's painting by the same name simultaneously captures the intimacy of love, submission, vulnerability and the finality of death.
"I see the instrumental as a canvas… just like Patricorel…It's a plain canvas and you don't know what you will create," Ajibade explains. "What struck me was the fact that he represents love with his pieces, but he draws with skeletons. I think skeletons are our most human, naked form."
In 2020, he made the coveted FORBES AFRICA 30 Under 30 list, in which he spoke about the side hustle while in college in Ghana that led him to a best-selling career in music and earning millions of fans along the way. "I began my career with a small cash gift from friends, which enabled me to pay for my first professional-quality video for Skin Tight," he told FORBES AFRICA, on the early days.
Innocent Ujah Idibia (2Baba or 2face Idibia)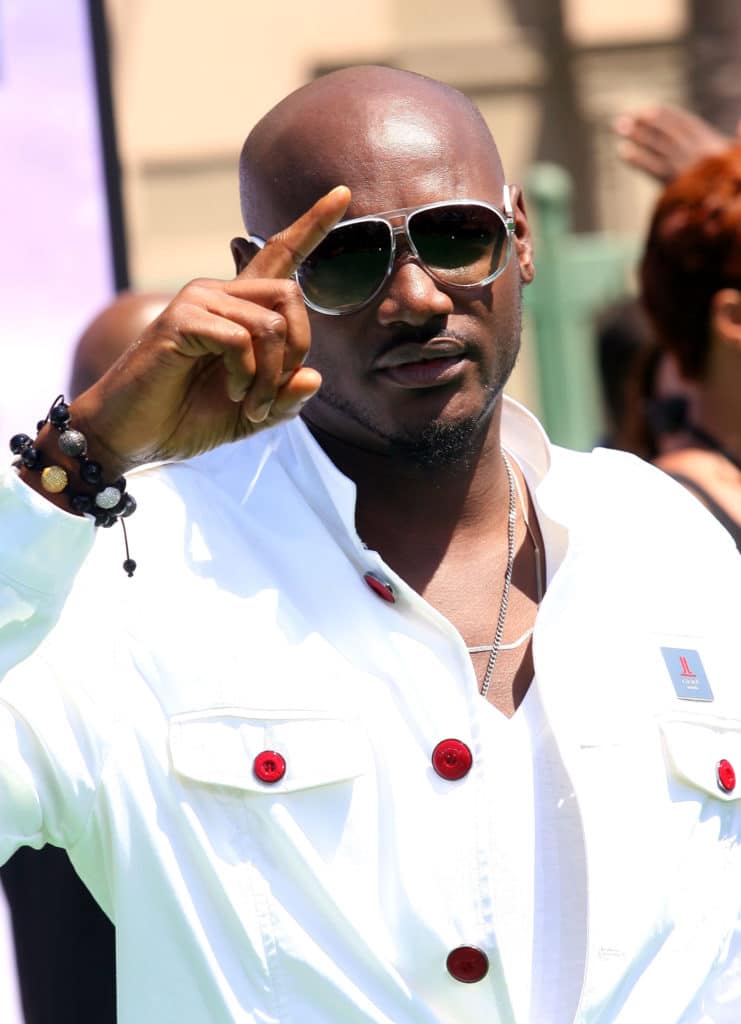 Spotify Monthly Listeners: 282 Million
YouTube Total Average Views: 122 Million
SOCIAL MEDIA NETWORTH
Instagram: 7.6 Million
Twitter: 3.2 Million
Facebook: 2.7 Million
Ask any African, they will be able to sing along to the classic 2004 2Baba song African Queen. Nigerian musician, Innocent Ujah Idibia, is known to the world as 2Baba, the first winner of the MTV EMA Best African Act category in 2005. Considered and regarded as one of the most decorated and successful Afropop artists in Africa, he is noted on the continent as an Afro-pop music legend.
According to the Vanguard, beyond music, Idibia established an NGO called the 2Baba Foundation whose motto is "service to humanity". Furthermore, in 2017, he announced a partnership with the United Nations High Commissioner for Refugees (UNHCR).
Refiloe Maele Phoolo (Cassper Nyovest)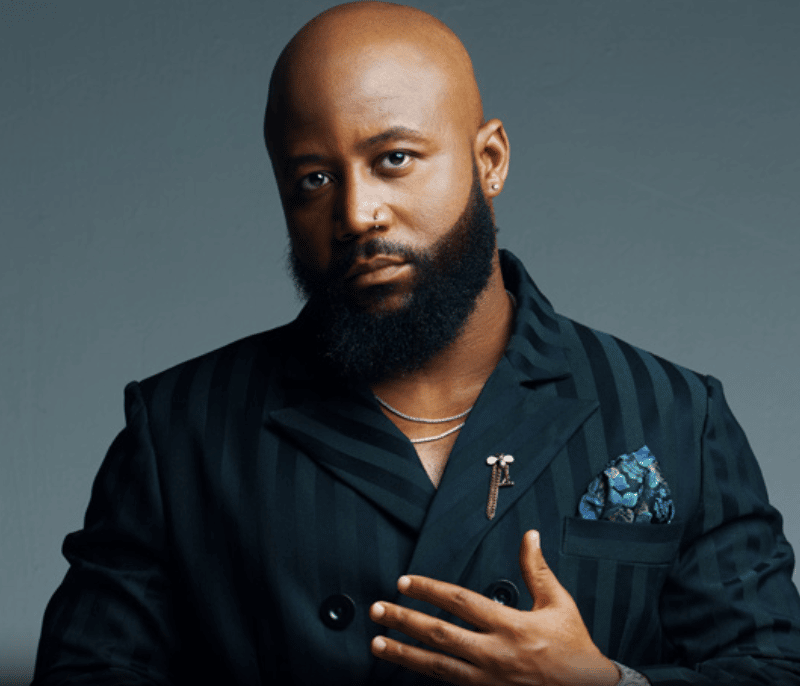 Spotify Monthly Listeners: 234K
YouTube Total Average Views: 60 Million
SOCIAL MEDIA NETWORTH
Instagram: 5.6 Million
Twitter: 3.9 Million
Facebook: 6.2 Million
TikTok: 1.1 Million
An artist who rose to fame in 2014, Refiloe Maele Phoolo (Cassper Nyovest) has since been an influential driving force for the South African music industry. His production, Fill Up The Dome, was a concert first held at the Ticket Pro Dome in Johannesburg, which then led to the Fill-Up franchise that were concerts held in some of South Africa's biggest establishments like Orlando Stadium (Gauteng), Moses Mabhida Stadium (Durban) and Royal Bafokeng Stadium (North West province). The award-winning artist shared more with FORBES AFRICA:
Q. What are your thoughts on the state of Africa's music industry right now?
A. The industry's growth is beautiful to witness and be a part of. I hope we document our own stories and tell them ourselves… if we as a continent nurture this, then this is just the beginning. We can truly take over the world if we maintain our work rate and be true to our sound and embrace our different cultures.
Q. What do you think the future looks like for this industry on the continent?
A. African sound has been influential from the beginning of time, so many genres took from Africa. I'm glad it's spoken about more and our continent is getting its due credit and recognition because that opens more doors for more kids and talent. If we can fix Africa as an industry, we'll truly be unstoppable. For now, individually, artists will continue to win and new ones emerge. The greatest win though is the entire industry taking over! That's my wish and dream.
Lebohang Morake (Lebo M)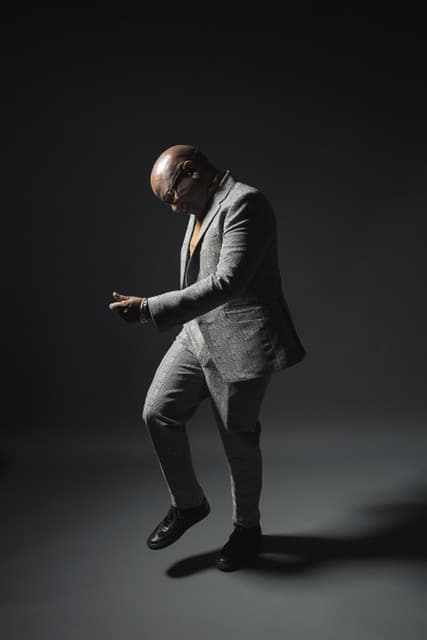 Spotify Monthly Listeners: 2.1 Million
YouTube Total Average Views: 8.6 Million
SOCIAL MEDIA NETWORTH
Instagram: 24.2K
Twitter: 7K
The moment you hear the lyrics Nants ingonyama bagithi baba… Sithi uhm ingonyama, you can't help but think of the South African Grammy award-winning The Lion King composer, Lebohang Morake (Lebo M).
Having started his career during apartheid, in a 2021 interview with FORBES AFRICA, Morake says: "As a young man, you would think I would be nervous or apprehensive. But I'm glad I was not. I was hungry. I was ready. I was doing an assignment that came by default. I was just looking forward to getting paid, honestly."
The composer said he has no plan of slowing down as he is booked and busy with films in Los Angeles, as well as his new reality show Coming Home recently released on Mzansi Magic and Showmax.
We asked the musical legend: "To what do you owe your success?"
Morake laughed, saying: "For me, being South African, my 'South African- ness' is the epitome of the essence of who I am as an artist. I am so passionate about who I am and where I come from."
Nkosinathi Innocent Maphumulo (Black Coffee)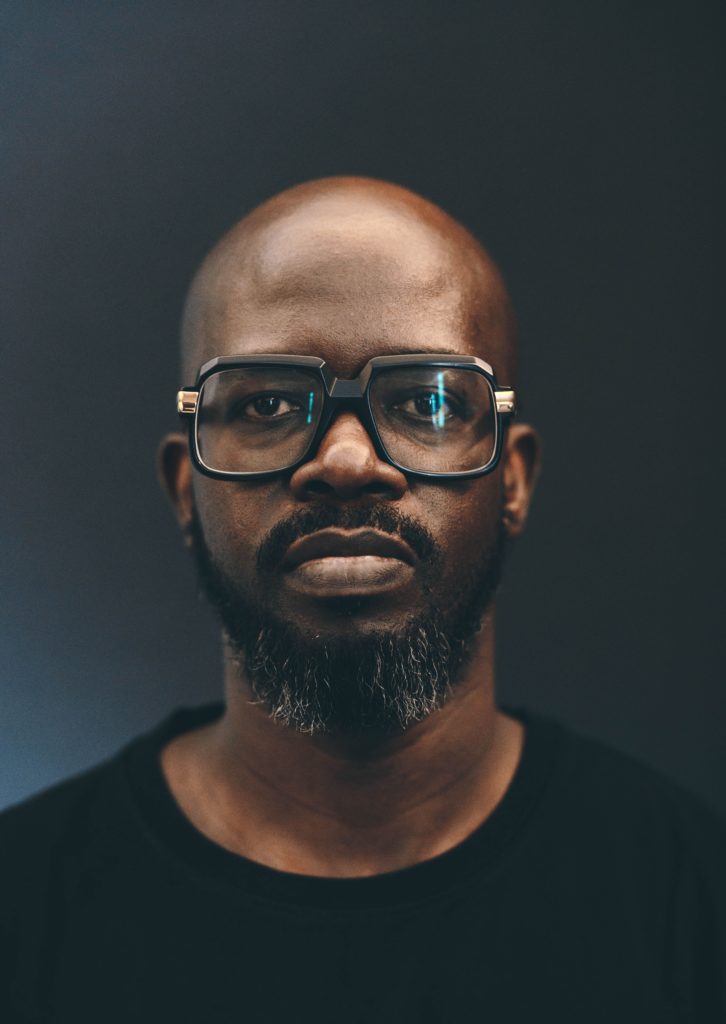 Spotify Monthly Listeners: 1.4 Million
YouTube Total Average Views: 35 Million
SOCIAL MEDIA NETWORTH
Instagram: 3.3 Million
Twitter: 4.7 Million
Facebook: 2.9 Million
TikTok: 14.6K
"I want to thank God for the gift of music and being able to share it with the world and heal souls and help people go through whatever they're going through in life," DJ and music producer Nkosinathi Innocent Maphumulo, popularly known as DJ Black Coffee, said after winning his first Grammy at the 64th Grammy Awards in Las Vegas this year.
Having already won multiple awards, like a BET award in 2016 and multiple South African Music Awards (SAMAs) throughout his career, Maphumulo's penchant for true Afropolitan house is what captured the world's attention.
Hailing from one of South Africa's biggest and brightest cities, Durban in KwaZulu-Natal, Maphumulo's career began in 2005 when he released a remix for Stimela, the 1972 classic by the late and legendary Hugh Masekela. That same year, after releasing his self-titled album, Maphumulo revealed that his first album was created using very basic music-making software.
"I don't know how to explain the production stages of my album because all I did was put down the basic ideas that I had. I didn't use any MIDI controllers. Everything was played with a computer mouse," he said.
To many, Maphumulo has led the house music way, establishing a global pre-eminence in vocal house music and a business-minded approach structured to unlock the plethora of opportunities offered by a converged digital realm driven by the songs and their performance.
Over the last two decades, the 46-year-old has firmly established his presence as one of the most prominent names in electronic music and has continuously shattered boundaries across the board.
Most notably, following a remix for Alicia Keys, a collaboration with international superstar, Drake, and the recent release of his sixth studio album, Subconsciously which features Pharrell Williams, Diplo, RyX, Usher, David Guetta and more.
"Today, the sounds of Africa resonate across the globe. A growing number of African artists have massive international profiles, have collaborated with some of the world's biggest artists, sold out stadiums, and have taken to the main stage at some of the world's biggest festivals," Spotify's Okumu says.